The meeting of the Board of Trustees of Suffolk County Community College scheduled for August 21, 2014 will now be held at 3:00 p.m. in Room 114 in the Captree Commons building, on the Michael J. Grant Campus, 1001 Crooked Hill Road, Brentwood, NY. This notification revises the previous time and location announced for this meeting.
Directions - Sayville Downtown Center
Driving Directions:
Take Sunrise Highway to Exit 49, Lakeland Ave.
Head south on Lakeland Ave. for approximately 1.5 miles.
Cross the LIRR tracks and make a right on to Depot Street.
Make the first left on to Greene Ave.
The Sayville Downtown Center is on your immediate right.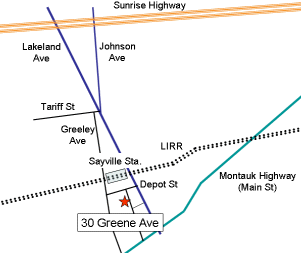 The Sayville Downtown Center is located one block north of Main St (Montauk Hwy), adjacent to the LIRR train station.
Last revised: 1/21/2011 Comments on this webpage, contact: Webmaster