The College's Michael J Grant Campus in Brentwood has been selected as the venue for a speech by President Donald Trump on the subject of MS-13 gang violence, this coming Friday, July 28th. The speech will take place in the VanNostrand Theatre and is scheduled for Friday afternoon. Please note that the audience is restricted to invited members of law enforcement and the media, with all invitations being handled by the White House. Due to traffic conditions, you are encouraged to avoid the area.
Suffolk County Community College News
For Immediate Release Share This News Release
4/18/2016

Amie Bernstein and Elisandra Fini Chosen From More Than 1,900 as All USA Scholars
Suffolk County Community College students Amie Bernstein and Elisandra Fini have been named one of the top 20 two-year college students in the nation as a member of the 2016 All-USA Community College Academic Team. The competition included more than 1,900 nominees from more than 1,000 community colleges across the U.S. and evaluated students on grades, leadership, activities and their contributions outside of the classroom.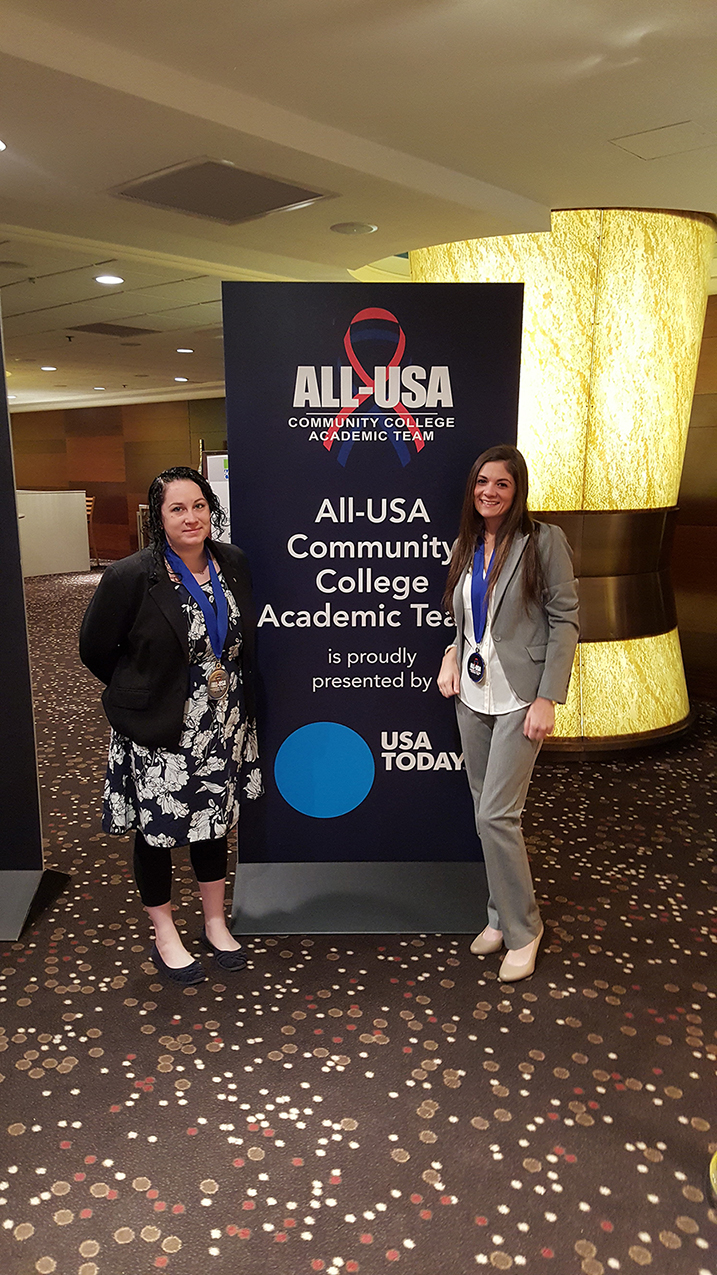 Amie Bernstein and Elisandra Fini

The pair were recognized with fellow team members during the American Association of Community Colleges national convention in Chicago, IL on April 12. Bernstein and Fini will each receive a $5,000 scholarship.

Amie Bernstein, a liberal arts and psychology major, from Holbrook, with a 3.7 grade point average, serves as the International vice president for Division I of Phi Theta Kappa and was a former chapter and regional president. Amie hopes to transfer to Indiana University in Bloomington or the University of Mississippi to study Psychology.

Elisandra Fini, a chemical dependency counseling major, from Huntington, with a 4.0 grade point average serves as vice-president of Phi Theta Kappa, and is a Get There From Here Scholar. Elisandra hopes to transfer to St. Joseph's College to pursue a B.A. in Adolescent Education.

"This is an outstanding achievement for Elisandra and Amie," Suffolk County Community College President Dr. Shaun L. McKay said.  "It's a true testament of the quality of a Suffolk County Community College education."

"We are extremely proud of our students," said Suffolk County Community College Board of Trustees Chair Theresa Sanders. "The All USA award and scholarships are recognition of extraordinary accomplishment and outstanding promise for the future."

The All-USA program is sponsored by Follett Higher Education Group and presented by USA TODAY with additional support provided by the American Association of Community Colleges and Phi Theta Kappa.
Last revised: 5/19/2017 Comments on this webpage, contact: Drew Biondo