PLEASE TAKE NOTICE that the meeting of the Board of Trustees of Suffolk County Community College, scheduled for February 18, 2016, has been CANCELLED. PLEASE TAKE FURTHER NOTICE that this meeting has been RESCHEDULED for Monday, February 29, 2016 at 4:00 p.m. in the Alumni Room of the Brookhaven Gymnasium, Ammerman Campus, 533 College Road, Selden, New York.
Office of the President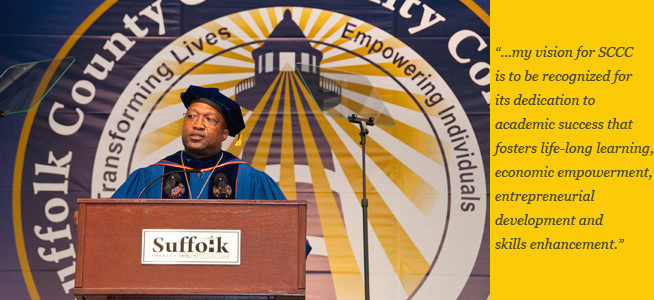 Dr. Shaun McKay speaks at his inauguration
President McKay Keynotes MLK Celebration
PHOTO: Second Term Inauguration of County Executive Steve Bellone
New Live-TV Production Vehicle at Suffolk
PHOTOS: Long Island Celebrates National Manufacturing Day at Suffolk
PHOTOS: Groundbreaking for Eastern Campus Health & Wellness Center
Photos: New William J. Lindsay Life Sciences Building Ribbon Cutting Ceremony on Oct 21st
Dr. McKay and Senator Lee Zeldin at the Senator's annual Black History Month Awards Ceremony - Feb. 21
Your Success Starts at Suffolk
Welcome to Suffolk County Community College! Here you will find affordable, quality higher education delivered in small class settings, led by faculty with credentials from many of the country's most acclaimed colleges and universities. Read Dr. McKay's Full Welcome Message.
Initiatives, Progress and Leadership
Last revised: 12/8/2015 Comments on this webpage, contact: Webmaster