The College's Michael J Grant Campus in Brentwood has been selected as the venue for a speech by President Donald Trump on the subject of MS-13 gang violence, this coming Friday, July 28th. The speech will take place in the VanNostrand Theatre and is scheduled for Friday afternoon. Please note that the audience is restricted to invited members of law enforcement and the media, with all invitations being handled by the White House. Due to traffic conditions, you are encouraged to avoid the area. Please
click here
for further information.
About the Health Club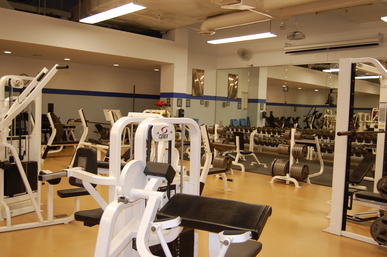 Our health club strives to make our community healthier by giving everyone the opportunity to incorporate fitness into their daily routine. We want our members to relax, get in shape, and have fun in a clean and safe environment. Our staff is dedicated to helping you reach and exceed your fitness goals.
Each yearly membership includes the following:
25 Meter/ 8 Lane Pool
Water "Aquarobic" classes Monday through Friday at 11 a.m.
Free Weights
Cybex Strength Assisted Lifting Systems
Cybex Cardiovascular Equipment
8 Tennis Courts (available by appointment only through the membership desk)
Locker rooms/Saunas/ Showers
Swim Lessons on Saturday and Sunday mornings 
Last revised: 1/14/2014 Comments on this webpage, contact: Webmaster