Press Releases and News
SUFFOLK COUNTY COMMUNITY COLLEGE ANNOUNCES
"CONVERSATIONS IN THE DISCIPLINES" CONFERENCE
Brentwood,  NY – A faculty team from the Michael J. Grant Campus of Suffolk County Community College has been selected to receive a $5,000 Conversations in the Disciplines (CID) Award from the State University of New York (SUNY).  The award will be used by the campus when it serves as the host location for a conference entitled The Digital Humanities and the Transformation of Scholarship. The conference will take place on Friday, April 5, 2013 from 9:00 a.m. to 5:00 p.m. in the Sagtikos Arts and Science Building.  The University Faculty Senate Committee on Programs and Awards evaluates CID submissions and recommends awards to the University Provost. Suffolk was the only community college to receive an award this year.

CID CONFERENCE FLYER NOW AVAILABLE
"DIGITAL HUMANITIES AND THE TRANSFORMATION OF SCHOLARSHIP"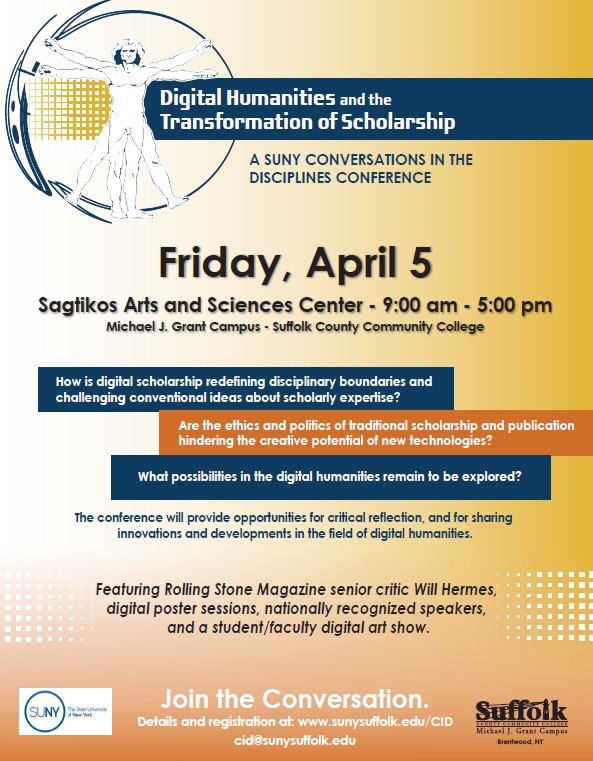 Last revised: 2/18/2013 Comments on this webpage, contact: Joseph Gatti