PLEASE TAKE NOTICE that the meeting of the Board of Trustees of Suffolk County Community College, scheduled for February 18, 2016, has been CANCELLED. PLEASE TAKE FURTHER NOTICE that this meeting has been RESCHEDULED for Monday, February 29, 2016 at 4:00 p.m. in the Alumni Room of the Brookhaven Gymnasium, Ammerman Campus, 533 College Road, Selden, New York.
Career Exploration
The Career Planning Process
The Career Exploration is a process through which you will learn about yourself and world of work, you will identify and explore potentially satisfying occupations and develop an effective strategy to realize your career goals. Career Exploration is an important activity that can help you choose an educational/career path or experiential career related training that fits with your interest, skill and abilities.
The Career Exploration stage also could be best described as the "information gathering" phase. Essentially, you will gather as much information about yourself as well as potential careers in open-minded. Don't discount a career until you have done some research. Eliminating a career on the basis of your initial perceptions will make your career exploration more difficult.
"Career exploration is dynamic and interactive process with the World of Work"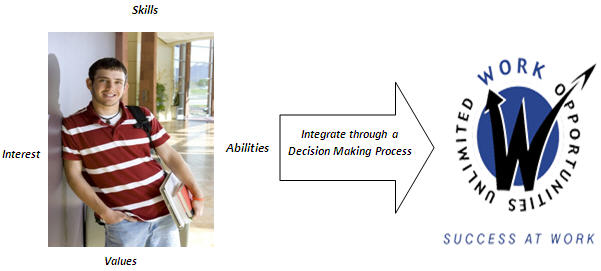 Last revised: 9/20/2013 Comments on this webpage, contact: Webmaster