Is Online Teaching Right for Me?
Many instructors are drawn to online teaching for its convenience as well as its capabilities but it's not for everyone. A successful online instructor will need the right technology skills, be flexible when technology is not working as planned, switch their teaching style from being the 'sage on the stage to the guide on the side' and also be open to learning and trying new technologies and techniques.
The information below will help you to determine if online teaching is right for you.
Typing skills: Including keyboard shortcuts (Ctrl+C, Ctrl+V, Ctrl+X)
File management: Knowing different file types (.docx, .pdf, .jpg, .avi), Save, Save As, Cut, Copy and Paste files, Locate and organize files
Operating System: Check version and install updates
Navigation: Open and close programs, menus, taskbars, tabs, windows
Install Software: Via download or CD
Update Software: Check version and install updates
Office Suite: Know the programs Word, PowerPoint and Excel
Java: Check version and install updates
Connect to the Internet: Connect to WiFi
Browser: Know what you're using. Mozilla Firefox, Google Chrome, Microsoft Edge, MAC Safari, etc..
URLs: Identify URLs and copy and paste them
Email: Know how to read, send, attach files, Cc, and Bcc
Discussion Boards: Know forums, threads, posts and replies
Cloud Storage: Upload and download files
USB Memory Stick: Transfer files between computers
Microphone: Record narrations or participate in an online meeting
WebCam: For online meetings or to record lectures
Video Camera: For recording lectures
Available Online: Respond to emails, host online meetings, and provide timely feedback
Strong Communicator: Explain assignments, instructions, course content and feedback
Supportive: Be understanding and accommodating of student needs
Willing to Learn: To teach in different methods and use new technologies
Adaptable: Expect the unexpected and adjust as necessary
Access Suffolk Online
Blackboard Learn DEV Site
Faculty only site for developing Blackboard Learn courses, practicing using Blackboard Learn, Academy members and committee sites.
Blackboard Learn Login (DEV)

Blackboard Learn Help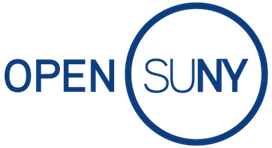 Click the logo to access OpenSUNY's help page or call
1-844-673-6786
*Press option 1 to reach the Help Desk
Light Box
div id=lightbox-display - no content updated