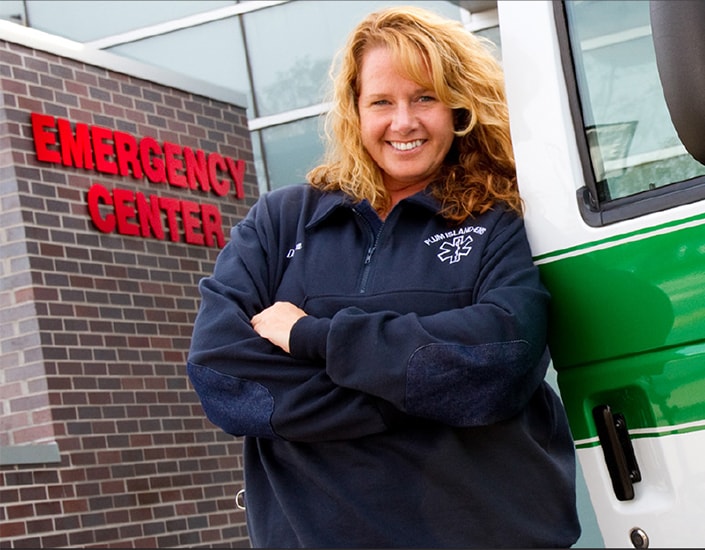 Answering The Call: Becoming a Professional Paramedic
With more than 2.8 million people on Long Island and upwards of 100 separate fire and EMS agencies across Suffolk County alone, it's readily apparent why Suffolk County Community College's Paramedic Associate Degree is so vital. "There's a clear demand for skilled and experienced professionals who can deliver the highest level of prehospital emergency care," says Matt Zukosky, Assistant Academic Chair and Professor of EMT at Suffolk.
An emergency medical technician (EMT) and a paramedic are not synonymous. EMTs usually have less than 200 hours of training and provide entry-level prehospital care, while paramedics have in excess of 1,100 hours of training and are able to provide the highest level of prehospital emergency medical care. "The College recognized an opportunity to offer residents the ability to earn a degree and become more marketable to fire and EMS agencies that are rapidly moving toward a system that includes both paid and volunteer professionals," Professor Zukosky points out. It's worth noting that Suffolk's Paramedic Program is the only degree-granting program east of New York City. "This allows Suffolk County residents to train, work and live right here," adds Zukosky. What's more, Suffolk's program provides exposure to different kinds of hospitals and EMS agencies across our region. "Suffolk County is not homogeneous and our students are able to get real-world experience in all kinds of hospitals and EMS agencies across our region. It makes for a well-rounded paramedic and provides students with a better perspective on how our many communities come together."
According to the U.S. Bureau of Labor and Statistics (BLS), employment of EMTs and paramedics is projected to grow 23 percent annually through 2022, much faster than the average for other occupations. In addition, the BLS noted that growth in middle-aged and elderly populations may lead to greater demand for EMTs and paramedics in the home health care field, and other specialized medical areas such as industrial safety. Paramedics are hired by emergency rooms and air rescue operations, opening even more career possibilities.
Program and Course Information
Program
Campus
Day/Evening
Ammerman
HEGIS Code -

5299

, CIP Code -

51.0904
Program Learning Outcomes
Curriculum Code:

PARM-AAS
This program fulfills the requirements set by state and national agencies for credentialing of the entry level paramedic. Students will become proficient in the art and science of out-of-hospital medicine with medical direction. The program stresses mastery of basic and advanced-life-support skills, which will be accomplished in college laboratories, affiliated hospitals and advanced-life-support ambulances. Competency in theoretical knowledge and developing the student's professional attitude consistent with the expectations of the public and the profession are also stressed.
Admission Procedures and Requirements
Entering students must have completed the high school mathematics sequence through Algebra 2 and must have scored an 85 or higher on high school biology within the last five years. Continuing students must have completed MAT007 or equivalent and any college-level biology course.
Students must complete BIO130: Anatomy and Physiology I and BIO132: Anatomy and Physiology II with a grade of C or better to enroll in the Parmedic (PAR) level courses. NYS EMT-Basic or higher certification is required for admission. The student's certification must remain valid for the duration of the program. For students who do not hold EMT credentials, New York State EMT-Basic is offered every semester at SCCC in course HSC126: Emergency Medical Care I. There is no prerequisite.
At their own cost, incoming students must meet and maintain the health requirements of the Paramedic program which include proof of immunizations, titers, PPD, and an annual physical examination. It is recommended that applicants have at least one year of documented field experience at the EMT Basic level prior to applying.
The Paramedic program is highly competitive and begins in the fall semester only. Applications are processed on a rolling basis. Meeting minimum requirements for admission does not guarantee acceptance into the program. The College reserves the right to make final decisions based upon the applicant pool each year.
FIRST SEMESTER: 12 credits
Credits
BIO130: Anatomy and Physiology I
4
COL101: College Seminar
1
ENG101: Standard Freshman Composition
3
PSY101: Introduction to Psychology
3
Physical Education Electives
1
SECOND SEMESTER: 13-14 credits
Credits
BIO132: Anatomy and Physiology II
4
COM102: Interpersonal Communication
3
ENG102: Introduction to Literature
3
Mathematics Elective
3-4
THIRD SEMESTER: 16.5 credits
Credits
♦
PAR101: Paramedic I
13
♦
PAR201: Paramedic Clinical I
3.5
| | | |
| --- | --- | --- |
| | WINTERSESSION: 1 credit | Credits |
| ♦ | PAR202: Paramedic Clinical II | 1 |
FOURTH SEMESTER: 16.5 credits
Credits
♦
PAR102: Paramedic II
13
♦
PAR203: Paramedic Clinical III
3.5
| | | |
| --- | --- | --- |
| | SUMMER SESSION: 3 credits | Credits |
| ♦ | PAR103: Paramedic Operations III | 3 |
| | |
| --- | --- |
| MINIMUM CREDITS REQUIRED | 62 |
| | |
| --- | --- |
| ♦ | These courses constitute the major courses in this curriculum. |
| | NOTE: While students will not be prohibited from pursuing the program, students who have previously been convicted of a felony are advised that their prior criminal conviction may impede their ability to complete requirements of the program. Students who have concerns about such matters are advised to contact the program coordinator or academic chair. Please refer to the following procedure for additional information. |
Program Learning Outcomes provide you with an overview of the skills and knowledge you will attain after graduating from the Suffolk County Community College degree or certificate programs.
Contact Us
Emergency Medical Professions
Matthew Zukosky
Program Coordinator
533 College Road
Selden, NY 11784
(631) 451-4299
zukoskm@sunysuffolk.edu
Central Admissions
Phone: (631) 451-4414
Fax: (631) 451-4415
admissions@sunysuffolk.edu
Office Hours:
Monday - Friday
9:00 a.m. - 5:00 p.m.
Course Description
div id="lightbox display - no content updated