As an institution of higher learning, Suffolk County Community College is dedicated to providing an environment conducive to intellectual and personal growth. Members of the College community are encouraged to participate in all aspects of academic life. For the College, this means a firm institutional commitment to academic freedom as well as a commitment to the highest standards of professional and interpersonal behavior and respect among members of the community. Thus, there is zero tolerance for any form of sex discrimination including sexual harassment and sexual violence.
Title IX Coordinator
The College's designated Title IX Coordinator is:
Christina Vargas
Chief Diversity Officer / Title IX Coordinator
533 College Road – NFL Building, Suite 230
Selden, NY 11784
(631) 451-4950
vargasc@sunysuffolk.edu
Where to report
Victims have the right to make a report to Public Safety, local law enforcement and/or State Police, or to choose not to report; to report the incident to the College; to be protected by the College from retaliation for reporting an incident; and to receive assistance, support and resources from the College.
Contact Public Safety at any time by calling (631) 451-4242 or 311 from any College phone.
In case of an emergency, call 911 to contact local law enforcement.
State Police 24-hour hotline to report sexual assault on a New York college campus: 1-844-845-7269
For state-wide resources available at every SUNY campus click here: www.suny.edu/violence-response
If you are a student, visitor or guest, faculty member, administrator or employee with an alleged claim of sexual harassment or sex discrimination/sexual violence by a student, complaints should be submitted to the Office of the Associate Dean of Student Services/Deputy Title IX Coordinator for the campus at which the alleged harassment occurred:
Ammerman Campus (631) 451-4176
Michael J. Grant Campus (631) 851-6521
Eastern Campus (631) 548-2514

Sexual Harassment Policy for Students
Student Code of Conduct
Student's Bill of Rights
Sexual Violence Response Policy
Definition of Affirmative Consent
Policy for Alcohol and/or Drug use Amnesty in Sexual and Interpersonal Violence Cases
SUNY Sexual Violence Prevention Report Suffolk County Community College
College disciplinary process vs. criminal justice process
New York State Education Law Article 129-B requires that college or other officials explain differences between college processes and the criminal justice process in addressing sexual and interpersonal violence. There are significant differences between the two systems because they have different, important goals. For a summary of these differences click here: http://system.suny.edu/media/suny/content-assets/documents/sexualviolenceprevention/College-and-Criminal-Process-Resource.pdf.
If you are student, faculty member, administrator or employee with an alleged claim of sexual harassment or sex discrimination/sexual violence by a contractor, visitor or guest, faculty member, administrator or employee at any campus, complaints should be submitted to the Office of the Compliance Officer/Legal Affairs:
Title IX Coordinator (631) 451-4950
Deputy Title IX Coordinator (631) 451-4051
Sexual Harassment Policy for Faculty, Administrator or Employee
Video on Title IX at Suffolk County Community College
Options for Confidentially Disclosing Sexual Violence - these on-campus privileged and confidential resources will not report crimes to law enforcement or College officials without your permission, except for extreme circumstances, such as a health and/or safety emergency:
Mental Health and Wellness Services
Ammerman Campus (631) 451-4040
Eastern Campus (631) 548-2650
Michael J. Grant Campus (631)-851-6876
Student Health Services
Ammerman Campus (631) 451-4047
Eastern Campus (631) 548-2510
Michael J. Grant Campus (631) 851-6709
Title IX Training Materials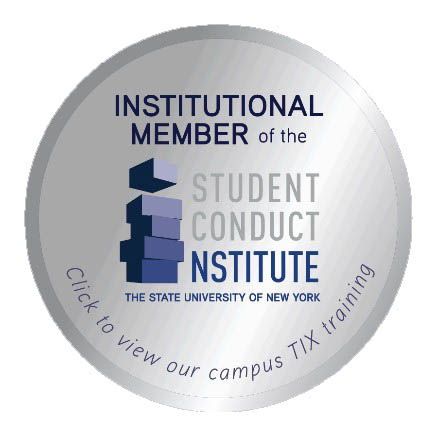 Access our Title IX training materials