You Served. We Honor.
At Suffolk County Community College, we proudly serve close to 600 military-connected students each year and have a long history of assisting veterans not only in maximizing their benefits, but also in supporting a successful transition to college life and achieving their educational and personal goals. The transition from military service to civilian life can be a critical period in the life of student veterans and their families and Suffolk embraces the leadership skills and many other unique qualities military service members bring to our institution. The combination of resources, institutional support, student community and personalized attention you will receive while enrolled at Suffolk makes it an excellent place to begin your academic career or continue your studies.
Student Quotes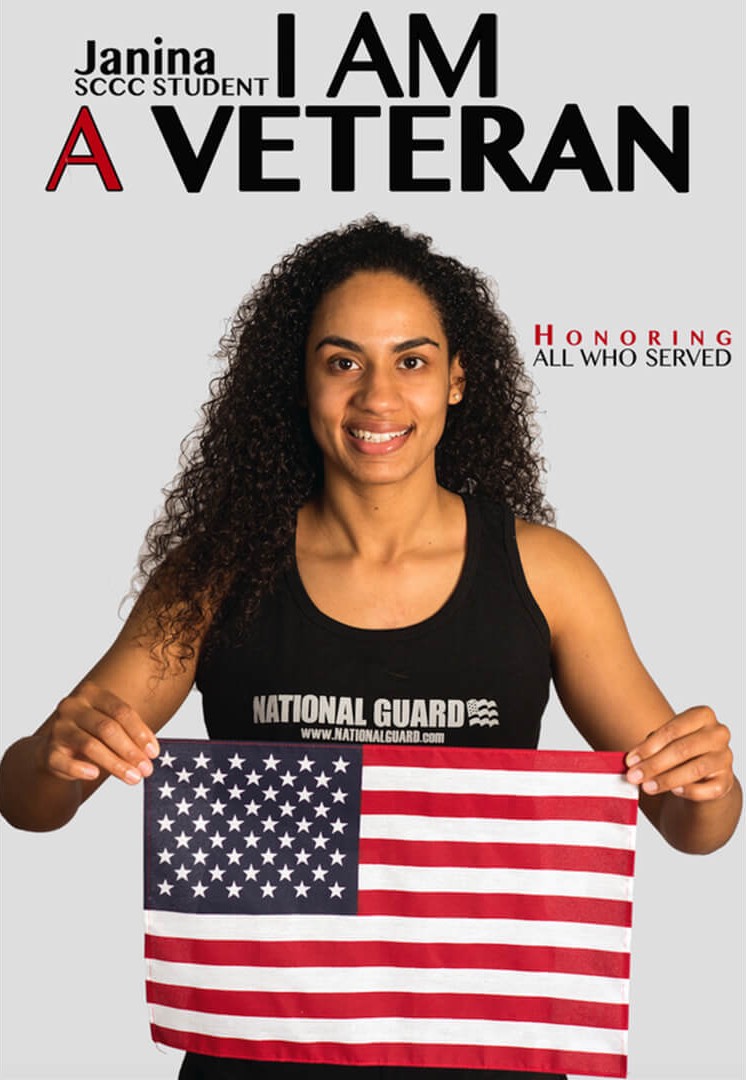 "Transitioning from the military into civilian life can be difficult. I always felt the staff, faculty and student organizations had my six and prepared me for my next mission at Syracuse University."
Janina Rios, Specialist , U. S. Army
"With Suffolk's affordable tuition, I was able to use the NYS Veterans Tuition Award to cover my tuition and save my GI Bill® to transfer to Fordham University."
Christopher Mustakas, Corporal, U. S. Marine Corps.
Why Suffolk?

What makes Suffolk County Community College military friendly?
A quality higher education, accredited by the Middle States Commission on Higher Education, with small class setting, offering online and on-campus as well as on base courses to fit your busy schedule.
Offering affordable tuition, which is covered by the GI Bill® and military tuition assistance, most times resulting in little to no out-of-pocket expenses. Application fee is also waived for military connected students.
More than 100 degrees and certificate programs, including nursing, EMT and criminal justice as well as a variety of highly skilled workforce training fields – such as welding and CNC machine operations
Suffolk is designated as a VetSuccess on campus program through the Department of Veterans Affairs, one of 104 schools across the country with this designation.
A Veterans Resource Center with dedicated professionals is available on each campus to assist you with the process for transitioning from military to college life and beyond along with a veterans lounge so veterans have a quiet space on campus to study and connect with fellow student veterans
A vibrant Student Veterans of America chapter on each campus will help connect you with other service members and veterans who want to support you as well a chapter of the SALUTE national honor society for military and veterans.
Suffolk partners with outside community organizations that serve military and veteran, bringing a wide variety of resources to the College veteran community.
Suffolk offers priority registration for military-connected students, helping you secure the classes and schedules you need.
Suffolk proudly accepts military training credits that are recommended by the American Council on Education (ACE), which helps service members and veterans obtain college credit for their military training and experience. At Suffolk, credit is also awarded for CLEP and DSST exams.
Applying is Easy
Apply Online and then contact the Veterans Resource Center on campus for assistance with applying for education benefits and assistance with the enrollment process.
The Johnny Isakson and David P. Roe, M.D. Veterans Health Care and Benefits Improvement Act of 2020 requires educational institutions to make certain disclosures to students using federal military and/or VA educational benefits. To view and print a copy of an estimated personalized cost of attendance you can visit the SUNY Net Price Cost Calculator and select Suffolk County Community College from the dropdown. Additional financial information can be found at the NCES College Navigator site.
Paying for College
Did you know the Post 911 GI Bill® provides education benefits for service members who have served on Active Duty for 90 or more days after September 10, 2001? The Post 9/11 Gi Bill® can pay your full tuition and fees at school, provide you with a monthly housing allowance while you are going to school, (pay grade E-5 with dependent), and give you up to $1000 a year to use for purchasing books and supplies. There are also benefits that may apply to military connected students still serving through their respective military branch up to $250 per credit as well as financial aid and scholarship options for military, veterans and their family members.
Veteran's Educational Benefits
Military/Tuition Assistance
Financial Aid for Eligible Veterans, Spouses and Dependents
Veteran Dependent Education Benefits
Spouses and Dependents
Additional Assistance
Light Box
div id=lightbox-display - no content updated