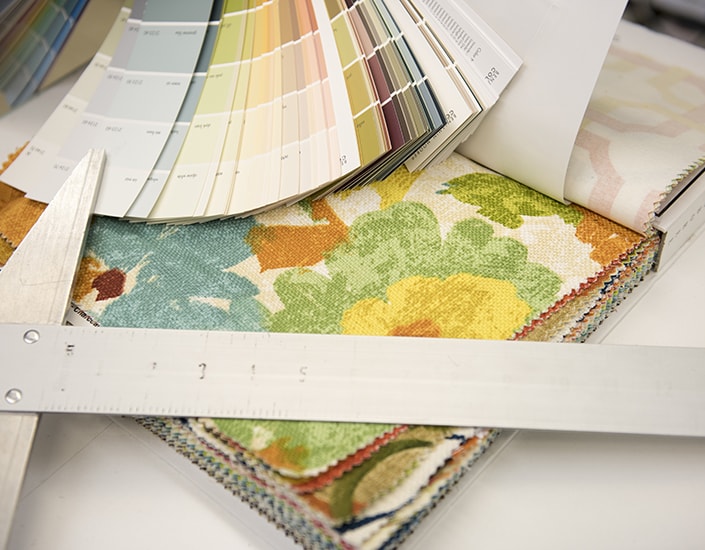 Program and Course Information
Eastern
HEGIS Code -

5012

, CIP Code -

50.0408
Program Learning Outcomes
Curriculum Code:

INDA-AAS
The Interior Design program links intensive core-specific courses in interior design with a strong liberal arts component. The course of study develops technical skills and aesthetic principles essential for creating and planning interior spaces. Studio classes develop skills in space planning, floor plans, elevations, construction drawings and specifications. Drawings and presentations are additionally enhanced by knowledge and application of textiles and color. Business practice and communication skills are essential tools for entering the design workforce. This program culminates in a capstone course in portfolio development and an internship mentoring experience. Graduates are prepared to pursue careers in the home furnishings field as in-house designers, design assistants, space planners, color consultants and managers in the retail home industries.
Students are admitted in the fall semester only. Students may consult with the department for spring courses, but they will not likely complete the program in four semesters because of core course prerequisites.
FIRST SEMESTER: 16 credits
Credits
ART130: 2D Design
3
ENG101: Standard Freshman Composition
3
♦
INT101: Interior Design I
3
♦
INT102: Interior Textiles and Finishes
3
♦
INT115: Interior Design Careers Seminar
1
PSY101: Introduction to Psychology
or SOC101: Introduction to Sociology
3
SECOND SEMESTER: 16 credits
Credits
COM101: Introduction to Human Communication
or COM102: Interpersonal Communication
3
ENG102:Introduction to Literature
3
♦
INT103: Interior Design II
3
♦
INT105: History of Interiors and Architecture
3
♦
INT107: Color for Interiors
3
Physical Education
1
THIRD SEMESTER: 16-17 credits
Credits
♦
INT201: Interior Design III
3
♦
INT205: Working Drawings
3
♦
INT208: Professional Practice for Interior Designers
3
Mathematics Elective
3-4
Social Sciences Elective
3
Physical Education
1
FOURTH SEMESTER: 16 credits
Credits
♦
INT220: Materials and Construction Methods for Interior Designers
3
♦
INT226: Kitchen and Bath Design
3
♦
INT227: Interior Design Portfolio and Assessment
3
♦*
INT230: Cooperative Education and Internships in Interior Design
or ART111: Art History I
or ART112: Art History II
or ART113: Modern Art
3
Laboratory Science Elective
4
| | |
| --- | --- |
| MINIMUM CREDITS REQUIRED | 64 |
| | |
| --- | --- |
| * | Students intending to continue on for a baccalaureate degree are advised to take ART111 or ART112 or ART113. Students planning to enter the job market upon graduation should select INT230. |
| ♦ | These courses constitute the major courses in this curriculum. |
Program Learning Outcomes provide you with an overview of the skills and knowledge you will attain after graduating from the Suffolk County Community College's degree or certificate programs.
Contact Us
Academic Chair
Faye Lourenso
Eastern Campus
121 Speonk-Riverhead Road
Orient Building
Riverhead, NY 11901
(631) 548-2591
lourenf@sunysuffolk.edu
Central Admissions
Phone: (631) 451-4414
Fax: (631) 451-4415
admissions@sunysuffolk.edu
Office Hours
Monday - Friday
9:00 a.m. - 5:00 p.m.
Course Description
div id="lightbox display - no content updated