For Immediate Release
June 2, 2014
Professor Chosen for Prestigious Research Program, Could Lead to Electronic and Solar Energy Breakthroughs.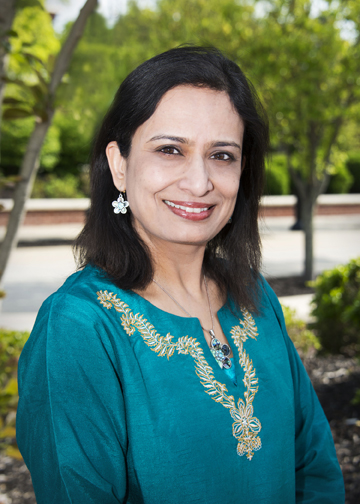 Dr. Sharadha Sambasivan
A Suffolk County Community College chemistry professor's research this summer as part of a prestigious group of visiting faculty at Brookhaven National Laboratory (BNL) could lead to the next big breakthrough in energy storage devices, including solar energy, batteries for hybrid automobiles and consumer electronic devices.
Dr. Sharadha Sambasivan of Holbrook has been selected to participate in the Department of Energy's (DOE) Visiting Faculty Program at BNL for the summer 2014 term. The highly competitive DOE program – Dr. Sambasivan was chosen from among applicants from the most prestigious colleges and universities across the globe -- will allow collaboration and research with some of the world's most talented scientists.
Dr. Sambasivan will be working at the National Synchrotron Light Source at BNL as a visiting professor where she will study graphene, a two dimensional array of carbon atoms and an exciting new material with almost limitless future applications for practical devices, perhaps as many as the transistor had when first developed at Bell Labs in the late 1950s.
Graphene is formed when graphite is broken down into layers one atom thick. It is very strong, chemically stable and an excellent conductor of electricity.
"Graphene, when fused with electrode materials in a lithium ion battery has shown extended battery life and better chemical stability," said Dr. Sambasivan. "A molecular understanding of these processes still remains a mystery. My summer research at BNL will explore atomic level surface chemical interaction of graphene and the electrode materials utilizing x-ray absorption. Molecular understanding of the materials is essential to improve existing optical and electronic devices," she said.
"Our faculty is among our strongest assets," said Suffolk County Community College President Dr. Shaun L. McKay, "and our faculty's priority is to inspire learning by engaging students and to never stop learning themselves. I congratulate Dr. Sambasivan on this prestigious appointment."
Suffolk County Community College chemistry students consistently score higher than the national norm on American Chemical Society (ACS) General Chemistry Exams. The American Chemical Society (ACS) is the world's largest scientific society. It is a congressionally chartered independent membership organization which represents professionals at all degree levels and in all fields of chemistry and sciences that involve chemistry.