For Immediate Release
June 3, 2020
Suffolk, Cornell and Next Stop Stanford University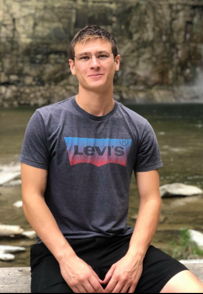 Alex Dzieman photo credit: Taylor Snyder
Suffolk County Community College 2018 Engineering graduate and Robert Frey Scholar Alex Dzieman graduated from Cornell University this spring and is headed to Stanford University this fall to pursue a Master of Science in Geomechanics.
While his path is now clear, Dzieman is the first to mention it wasn't always that way. "I barely graduated," he said, from Sag Harbor's Pierson High School in 2014 and took a gap year working construction.
It was during his stints on construction sites that he said "I realized my opportunities would be limited without some type of formal education."
"Suffolk gave me the opportunity to prove myself academically and allowed me to transfer and succeed in four-year institutions that would have previously rejected me," Dzieman said.
Dzieman said his path crystallized when he was introduced to Professor Peter Maritato in his Introduction to Engineering Design class. Maritato's first assignment had students choose what school they planned to attend after graduating Suffolk and create a plan.
Dzieman's first choice was California Polytechnic State University, and he ultimately applied to eight engineering schools, including Ivy League, Cornell University. The Cornell application? Dzieman called it a "Hail Mary."
The Hail Mary? Answered. Dzieman received his Cornell Engineering School acceptance the same day he was awarded a $5,000 Robert Frey Scholarship from Suffolk.
"Alex is an example of a student who focuses and organizes his own education and once again proves that students attending Suffolk County Community College can and will succeed academically as well as professionally. With his acceptance to Stanford University he is among the top ten percent of bachelor graduating engineers in the nation. As we have had in past, Robert Gibson NASA space shuttle captain who also attended Suffolk's Engineering program, Alex will achieve the same and greater results with his career," said Suffolk's Academic Chair of Engineering and Technology Peter Maritato.
Dzieman graduated from Suffolk County Community College with an A.S. in Engineering Science. He thanks all that helped him along the way, specifically the Math Learning Center and Physical Science Tutor Center. "I can't say enough about them," he said.