For Immediate Release
February 26, 2021
She's a Winner! Geer Awarded Prestigious Vanguard Award
Suffolk County Community College's Talise Geer has been awarded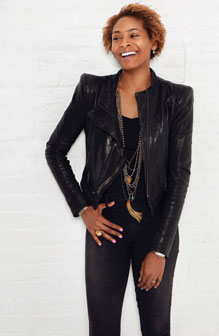 the prestigious Vanguard Student Recognition Award that acknowledges outstanding students who are enrolled in career and technical education programs that prepare them for professions that are not traditional for their gender. The Vanguard Award is presented annually by the NET (Nontraditional Employment & Training) Project, an initiative administered by SUNY Albany's Center for Women in Government & Civil Society in partnership with the New York State Education Department.
Geer is one of eight state-wide award recipients and pursuing a new career in cybersecurity. She was notified of her win Wednesday evening.
"I had been searching for a long time to find my fit - a passion -- and I found it in cybersecurity. I feel honored to be have been recognized as one of the winners of the Vanguard Award. I look forward to what the future holds for me and holding the door open for other women seeking to enter this field," Geer said.
The Vanguard Award Ceremony will be held virtually at the Nontraditional Employment Training Conference in April.
Geer' full story is here: https://www.sunysuffolk.edu/news/talisegeer.jsp