For Immediate Release
August 11, 2022
Van Howell: Drawing the Line, at Suffolk's Lyceum Gallery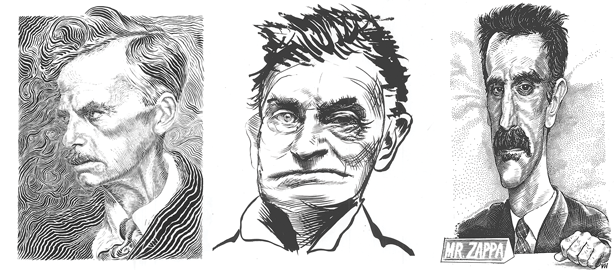 Van Howell drawings: Eugene O'Neill, John Brown, Frank Zappa
Van Howell: Drawing the Line, an exhibit of pen and ink illustrations, will be on view at Suffolk County Community College's Lyceum Gallery on the Eastern Campus from September 16 through November 18. An artist's reception will be held on Tuesday, September 27, from 4 p.m. to 6 p.m.

Featured will be original drawings of some of the thousands of cartoons and portraits Howell created for the Wall Street Journal, Newsday, New York Times, and Guardian between 1980 and 2003. Many are renderings of political, literary, and musical icons set in Howell's comical and often cutting satire. He captures public personalities with arresting line work and great drawing dexterity while sometimes revealing the shadowy side of humanity.
"I try to get to know my subjects and draw them inside out," says Howell. "Even the trashiest celebrities and nastiest dictators may retain traces of the souls they've sold."
Also on view will be Howell's illustrations for Proust for Beginners (2016) and his explorations of London cityscapes, Australian forests and the human figure.
Born in 1948, now residing in Riverhead, Howell grew up in Westhampton. He shares fond memories of his high school art teacher and mentor, Fred Klotz. He studied art at Boston University with Richard Yarde and Morton Sacks, then at the NY Studio School (NYSS) with Philip Guston and Mercedes Matter. Even before he entered NYSS, Howell's cartoons and writings were appearing in the subversive Rat Subterranean News. This eclectic education culminated in his uncanny ability to embed thought and opinion into his art.
During the 70s, Howell's artwork occasionally appeared in the Riverhead News Review, Dan's Papers, Southampton Press, and The Village Times. He produced murals for the Hampton Arts Theater in Westhampton Beach, and he helped launch a series of newspapers. Moniebogue Press, Long Island Farmworker, Native Patriot, Peconic Review, East End Independent, Chain Reaction, and Sound Times are the ones he recalls. "But there may have been others," he adds. "And later on, there was the Long Island Foghorn, which lasted from 1987 to 1994. It focused on untangling the Island's pervasive networks of real estate developers, corrupt unions, PR firms, political parties, and unsavory characters."
Howell's Illustration career took off in the 1980s with his work for New York newspapers. Other clients included Marvel Comics, Esquire, Exxon, MetLife, AdWeek and the East Hampton Star. After a move to London in 2001, Howell's political cartoons appeared in the British publication, The Guardian.
Howell lived in London from 2001 – 2013, where he taught art and writing at Barnet College, Egyptian portraiture at the British Museum's Big Draw event (2002, 2004), and a short course called, "Drawing as a Way of Thinking," at Ruskin College, Oxford University. His work was exhibited at the Mall Galleries and at St. Martins-in-the-Fields. Later, Howell lived in Australia where he taught cartooning and caricature at the Toowoomba Art Society.
Howell's caricatures have been recognized by The Royal Society of Portrait Painters, The Society of Illustrators, and the Society for News Design. His Rothko is used in a college textbook, A Guide to Drawing to introduce a chapter on illustration. He's a past member of the Graphic Artists Guild, National Cartoonists Society, and the Australian Cartoonists Association.
For more information on Howell's art, visit Van Howell.


Gallery hours are:
Monday -Thursday 10 a.m. - 7 p.m.
Friday 10 a.m. - 4 p.m.
Saturday 11 a.m. – 4 p.m.
The Gallery is closed on Sundays and holidays, (Exceptions: closed on 9/3 – 9/5. Closed on 11/11), call 631 548-2536 for more information.