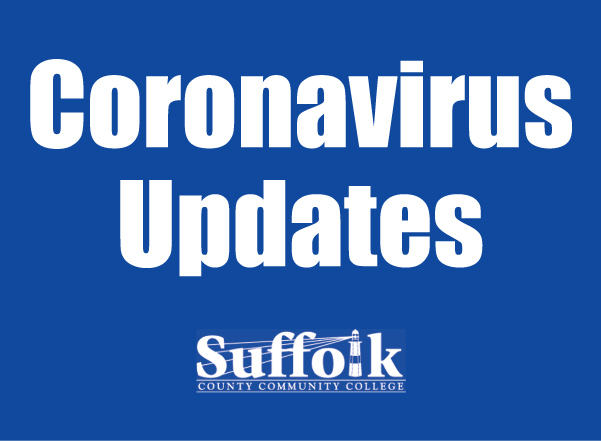 STUDENT VACCINATION AND BOOSTER REQUIREMENT FOR SPRING 2022 SEMESTER
In alignment with SUNY's COVID-19 Vaccination Policy, all students coming to campus for classes, activities or services must be fully vaccinated for COVID-19.
In addition, as soon as they are eligible, students are required to present evidence of a COVID-19 vaccine booster during the spring 2022 semester. Details regarding student eligibility to receive the booster will be communicated directly to students and made available on the website.
IMPORTANT NOTICE: Vaccines are available throughout Suffolk County. Please refer to this link: https://www.suffolkcountyny.gov/vaccine
Vaccination POD Locations
View all vaccine clinics at
https://www.suffolkcountyny.gov/Vaccine
Brief Summary of COVID-19 Student Requirements for Spring 2022
A big part of achieving your academic goals means staying healthy throughout the semester. Below, we've summarized student on-campus expectations for the spring. The summary information below is further explained in greater detail through this website.
1) Return-to-campus proof of negative test
In addition to required vaccination and booster, students will be required to complete PCR testing at a campus location during the first two weeks of classes, which will provide a baseline measure for ensuring public health.
Students may be able to submit medical and religious exemption applications. Students with an approved medical or religious exemption are not required to obtain the booster, but are required to present a negative test and undergo regular on-campus COVID-19 testing in accordance with college policy.
2) Surveillance testing
For the spring semester, all college employees and on-campus students will be required to participate in surveillance testing twice per month, regardless of vaccination status, in accordance with the plan developed by the Safe Start Task Force. The college will be expanding its testing schedule to meet the increased demand for testing.
3) Please Choose an Online Schedule If You Choose Not to Be Vaccinated
We are pleased to offer many courses completely online. Students who do not plan to be vaccinated are encouraged to build a schedule using one of our online options.
4) We Believe That You Belong at SUNY Suffolk!
By working together, we can make this upcoming semester successful for everybody.
If you have any questions, please see one of our counselors or advisors before completing your schedule.
5) Masking is Optional on Campus
Effective Wednesday, March 2, 2022, the college shifted to a mask-optional policy. Masks are no longer required on campus, in classrooms, inside college buildings, labs, offices, common spaces, or in crowded outdoor settings and venues. Masking on campus is optional for all members of our community. It is anticipated that many employees and students alike may desire to continue using masks in indoor settings. Members of the Suffolk community have many different reasons to continue or discontinue masking. Individual needs and differences should be respected and mutually supported.
Faculty, staff, and students who are unvaccinated, or care for family members with a heightened risk for illness, are encouraged to continue to wear a mask.
---
SUNY Suffolk is welcoming students back this
spring

with more on-campus classes

For the spring 2022 semester, SUNY Suffolk is offering classes in a variety of instructional delivery methods to meet student needs. Here is a brief explanation of how each modality works:

Face-to-face classes—the traditional classroom experience, with instruction provided by the professor in a classroom with other students. Many face-to-face classes will be offered at all three campuses in Brentwood, Selden and Riverhead and at the College's two downtown satellite centers in Sayville and Riverhead.

Combined Online—50% Online and 50% Real-Time Online meeting times with your instructor.

Blended—partly on campus and partly Online or Real-Time Online, used mostly for labs and performance courses.

Online—instruction is provided by the professor through Blackboard, the College's online learning management system. Students interact with faculty and complete assignments working on their own time, while adhering to course deadlines.

Real-Time Online—recreates a classroom experience with your instructor and other class members coming together for live virtual instruction at regularly scheduled days and times.

Combined Online—50% Online and 50% Real-Time Online meeting times with your instructor.

You are encouraged to continue to monitor this website for updates.
Light Box
div id=lightbox-display - no content updated