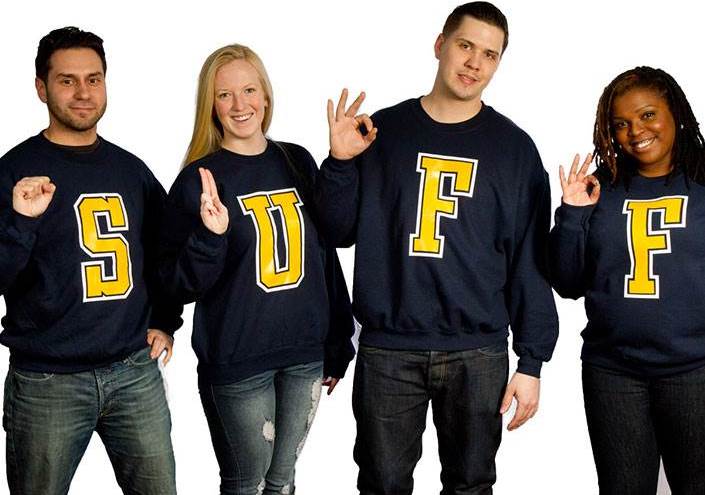 Program and Course Information
Ammerman
HEGIS Code -

5599

, CIP Code -

16.1603
Program Learning Outcomes
Curriculum Code:

ASL-SD-AAS
The American Sign Language Studies program is designed for individuals who are interested in sign language and working with deaf people. Graduates will be prepared to work as a para-professional in programs for deaf students and adults and/or transfer to four-year degree programs in Sign Language Interpreting, Deaf Studies, Deaf Education, Deafness Rehabilitation, Special Education and other careers that involve deaf and hard-of-hearing children and adults.

To continue as a student in the American Sign Language Studies program, students must achieve a minimum grade of C in every ASL course. Students may opt to repeat a course only once to earn a C or better.

ASL101, ASL103, ASL105, ASL201, ASL203, and ASL220 are open to non-program students who have completed the appropriate prerequisites. Students are admitted in the fall and spring semester, but will not be able to complete the program in two years if admitted in the spring. ASL201 and ASL203 are offered only in the fall. ASL210 and ASL220 are offered only in the spring.
FIRST SEMESTER: 14 credits
Credits
♦
ASL101: American Sign Language I
3
♦
ASL103: Deaf Culture and Contemporary Issues
3
COL101: College Seminar
1
ENG101: Standard Freshman Composition
3
Physical Education
1
PSY101: Introduction to Psychology
3
SECOND SEMESTER: 15 credits
Credits
♦
ASL105: American Sign Language II
3
ENG119: The Structure of English
3
HSC114: Group Dynamics
3
Humanities Elective
3
PSY210: Lifespan Development
3
THIRD SEMESTER: 16 credits
Credits
♦
ASL201: American Sign Language III
4
♦
ASL203: Fingerspelling
2
BIO101: Principles of Biology
4
PSY213: The Exceptional Child
3
Social Sciences Elective
3
FOURTH SEMESTER: 16-17 credits
Credits
♦
ASL210: Comparative Linguistics: ASL and English
3
♦
ASL220: American Sign Language IV
4
HSC101: Health Concepts or Health Elective
3
Mathematics Elective
3-4
Unrestricted Elective
3
| | |
| --- | --- |
| MINIMUM CREDITS REQUIRED | 61 |
| | |
| --- | --- |
| ♦ | These courses constitute the major courses in this curriculum. |
Program Learning Outcomes provide you with an overview of the skills and knowledge you will attain after graduating from the Suffolk County Community College degree or certificate programs.
Contact Us
Education, Health and Human Services
Darlene Hochman
Academic Chair
Education Health & Human Services Dept.
Ammerman Campus
Riverhead Building
533 College Road
Selden, NY 11784
(631) 451-4299
hochmad@sunysuffolk.edu
Central Admissions
Phone: (631) 451-4414
Fax: (631) 451-4415
admissions@sunysuffolk.edu
Office Hours:
Monday - Friday
9 a.m. - 5 p.m.
Course Description
div id="lightbox display - no content updated