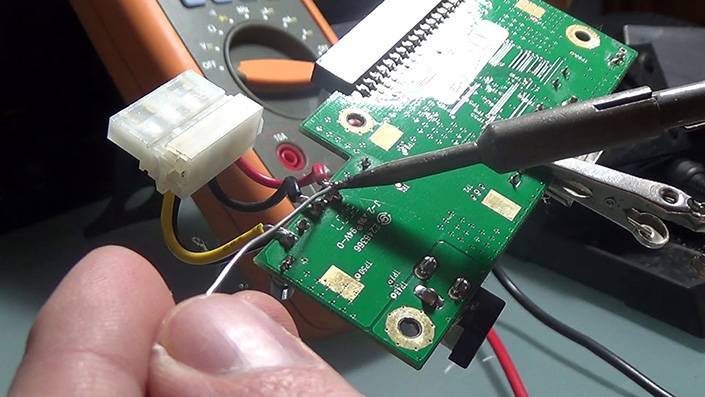 Program and Course Information
Ammerman
HEGIS Code -

5310

, CIP Code -

15.0303
Program Learning Outcomes
Curriculum Code:

ELTC-AAS
This program is designed for students who wish to study for technical careers in electronics and related fields. Students are prepared for careers in industry or business as electronic technicians or engineer assistants, or they may adapt their degree for transfer to baccalaureate degree programs.
Emphasis is placed on classroom study and laboratory training in electricity, electronics, microcontrollers, telecommunications and networking. The technical subjects are supplemented with courses in English, mathematics, physics and communication.
Students entering industry or business can find careers as production or lab technicians, engineer assistants, or field-service representatives in the area of communications, computers, control and measurement, medical electronics, consumer and office equipment, and other electronics-related fields.
Students planning to transfer to four-year colleges should consult with the department for their selection of courses. Typical programs to which the A.A.S. degree transfers include the Bachelor of Electrical Technology (B.E.T.) and the Bachelor of Science in Engineering Technology (B.S.E.T.).
Admission Procedures and Requirements
For placement for the FIRST SEMESTER, entering students must have completed Algebra I and Geometry or equivalent in high school and qualify for MAT124; students who enter at the MAT111 level can start in the program, but must complete the MAT124 and MAT125 sequence to graduate.
FIRST SEMESTER: 17 credits
Credits
COL101: College Seminar
1
♦
ELT112: Electricity I
4
♦
ELT113: Digital Electronics I
4
♦
ELT115: Technical Problem Solving
1
ENG101: Standard Freshman Composition
3
*
MAT124: Fundamentals of Precalculus I or higher
4
SECOND SEMESTER: 17 credits
Credits
♦
ELT221: Electronic Applications of Mathematics
1
♦
ELT222: Electronics I
4
♦
ELT224: Electricity II
4
♦
ELT227: Electrical Construction
1
♦
ELT228: Digital Electronics II
3
*
MAT125: Fundamentals of Precalculus II or higher
4
THIRD SEMESTER: 17 credits
Credits
COM101: Introduction to Human Communication
3
♦
ELT231: Electricity III
4
♦
ELT236: Electronics II
3
♦
ELT238: Digital Electronics III
3
*
PHY101: College Physics I
4
FOURTH SEMESTER: 13 credits
Credits
♦
ELT243: Advanced Electronics
3
♦
ELT244: Analogue/Digital Communications
3
**
English Elective
3
Social Sciences Elective
3
Physical Education Elective
1
| | |
| --- | --- |
| MINIMUM CREDITS REQUIRED | 64 |
| | |
| --- | --- |
| * | Students intending to transfer to baccalaureate programs are advised to take MAT141 and possibly PHY102 before transferring. Transfer students should check with the department for advisement. |
| ** | Recommended: ENG121. |
| ♦ | These courses constitute the major courses in this curriculum. |
| | Note: See Transfer Agreements for articulation agreements with four-year colleges and universities. |
Program Learning Outcomes provide you with an overview of the skills and knowledge you will attain after graduating from the Suffolk County Community College degree or certificate programs.
Contact Us
Program Coordinator
Peter Maritato
533 College Road
Selden, NY 11784
(631) 451-4277
maritap@sunysuffolk.edu
Central Admissions
Phone: (631) 451-4414
Fax: (631) 451-4415
admissions@sunysuffolk.edu
Office Hours
Monday - Friday
9:00 a.m. - 5:00 p.m.
Course Description
div id="lightbox display - no content updated