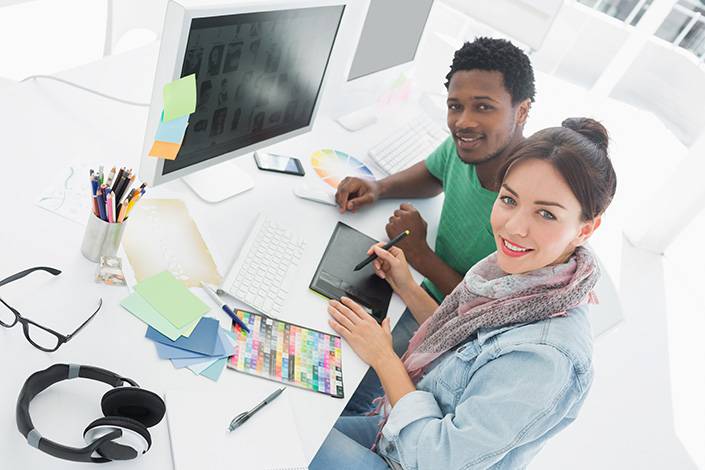 Program and Course Information
Eastern
HEGIS Code -

5012

, CIP Code -

50.0409
Program Learning Outcomes
Curriculum Code:

GRDE-AS
The Graphic Design program is to provide students with a foundation in design process and problem solving based on both traditional and contemporary practices. Graphic design involves the use of specialized software combined with creativity to create strong visual communications using type and images. In this program, students will learn the artistic design and technical skills needed across print and digital media of graphic design. Coursework often includes creating logos, developing collateral for various types of clients, and designing layouts for print and web productions.

This program is intended for students interested in pursuing a career in a visual communication design field who will transfer to a baccalaureate program.

Students matriculated in the Graphic Design program must achieve a minimum grade of C to each graphic design core course in order to continue on to the next course in the sequence and to qualify for graduation.
FIRST SEMESTER: 16 credits
Credits
♦
ART116: Adobe Photoshop
3
♦
ART130: 2D Design
3
ENG101: Standard Freshman Composition
3
♦
GRD101: Graphic Design I
3
♦
GRD102: Graphic Design Technology
3
♦
GRD105: Digital Design College Seminar
1
SECOND SEMESTER: 16 credits
Credits
♦
ART120: Color Theory
3
♦
GRD103: Typography I
3
♦
GRD207: History of Graphic Design
3
*
MAT111 or higher
4
PSY101: Introduction to Psychology
3
THIRD SEMESTER: 16 credits
Credits
♦
ART111: Art History I
3
♦
ART133: Drawing I
3
ENG121: Technical Writing
3
♦
GRD211: Graphic Design II
3
Laboratory Science Elective
4
FOURTH SEMESTER: 16 credits
Credits
♦
ART112: Art History II
3
♦
GRD203: Web Design I
3
♦
GRD212: Publication Design
3
*
History Elective
3
**
Other World Civilizations
Social Sciences Elective
3
Physical Education
1
| | |
| --- | --- |
| MINIMUM CREDITS REQUIRED | 64 |
*
To be selected from HIS101, HIS102, HIS103, HIS104, or HIS107.
**
Other World Civilizations social science electives include the following: ANT101, ANT105, ANT203, ANT211, GEO101, GEO102, GEO103, HIS107, HIS110, HIS118, HIS119, HIS120, POL107, or POL111.
♦
These courses constitute the major courses in this curriculum.
NOTES: 1) Students planning to transfer to a SUNY four-year institution should check the SUNY General Education Requirements for selecting courses.
2) See Transfer Agreements for articulation agreements with four-year colleges and universities.
Program Learning Outcomes provide you with an overview of the skills and knowledge you will attain after graduating from the Suffolk County Community College's degree or certificate programs.
Contact Us
Academic Chair
Faye Lourenso
Eastern Campus
121 Speonk-Riverhead Road
Orient Building
Riverhead, NY 11901
(631) 548-2591
lourenf@sunysuffolk.edu
Central Admissions
Phone: (631) 451-4414
Fax: (631) 451-4415
admissions@sunysuffolk.edu
Office Hours
Monday - Friday
9:00 a.m. - 5:00 p.m.
Course Description
div id="lightbox display - no content updated