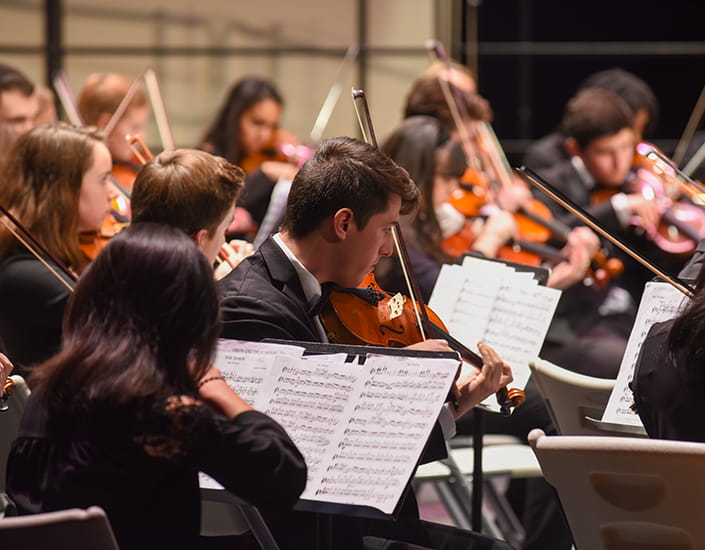 Welcome to the Music Department at Suffolk County Community College! Our music program offers a solid and comprehensive foundation for both music majors who intend to pursue music as a career and for non-majors who are interested in performing.
All SCCC students, faculty, and staff, as well as members of the community, are welcome to participate in music ensembles.
Students who obtain the A.S. degree in music from Suffolk County Community College transfer to four-year music programs to study music education, performance, composition, music business, music therapy, or music production. Our program offers small classes, first-rate ensembles, advising tailored to the student's needs, and a faculty of top-notch professionals in the field.
Graduates of the music program have transferred to Westminster Choir College (NJ), Berklee College of Music (MA), the Crane School of Music at SUNY Potsdam, Temple University (PA), Columbia University, SUNY Fredonia, and many other excellent schools. Suffolk alumni are public school music teachers on Long Island, professional performers, award-winning composers, and practicing music therapists.
Program
Campus
Day/Evening
Ammerman
HEGIS Code -

5610

, CIP Code -

50.0901
Program Learning Outcomes
Curriculum Code:

MUSC-AS
This program is designed for students wishing to pursue a career in music. Graduates will have a solid foundation in music theory, aural skills, piano, history and performance that will enable them to transfer to a four-year college music program to pursue a career in music education, performance, composition and arranging, conducting, therapy, law, songwriting or audio recording.
Admission Procedures and Requirements
To be admitted into the Music program candidates are required to take a Music Theory Placement exam and complete a successful audition on their instrument or voice.

Students do not have to be a MUSC-AS designation to be enrolled in general music classes: MUS101, MUS103, MUS105, MUS109, MUS111, MUS113, MUS117, and MUS120, or music performing ensembles.
FIRST SEMESTER: 15 credits
Credits
ENG101: Standard Freshman Composition
3
♦
MUS115: College Seminar for Music Majors
1
♦
MUS122: Music Theory I (Diatonicism)
3
♦
MUS123: Aural Skills I
2
♦
MUS124: Piano I
2
♦
MUS125: Applied Music I
1
*♦
Performance Ensemble
2
Physical Education
1
SECOND SEMESTER: 17-18 credits
Credits
ENG102: Introduction to Literature
3
Mathematics Elective
3-4
♦
MUS126: Music Theory II (Diatonicism)
3
♦
MUS127: Aural Skills II
2
♦
MUS128: Piano II
2
♦
MUS129: Applied Music II
1
*♦
Performance Ensemble
2
Physical Education
1
THIRD SEMESTER: 16 credits
Credits
Laboratory Science Elective
4
♦
MUS203: Music Theory III
3
♦
MUS204: Aural Skills III
2
♦
MUS205: Applied Music III
1
♦
MUS206: Music History I
3
Social Sciences Elective
3
FOURTH SEMESTER: 15 credits
Credits
**
History Elective
3
Humanities Elective
3
♦
MUS208: Music Theory IV
3
♦
MUS209: Aural Skills IV
2
♦
MUS210: Music History II
3
♦
MUS211: Applied Music IV
1
| | |
| --- | --- |
| MINIMUM CREDITS REQUIRED | 63 |
*
Music majors taking more than two performance courses in any given semester are required to pay only two lab fees.
**
To be selected from HIS101, HIS102, HIS103, HIS104, HIS107, HIS118, HIS119, HIS120.
♦
These courses constitute the major courses in this curriculum.
NOTES: 1) Students planning to transfer to a SUNY four-year institution should check the SUNY General Education Requirements for selecting courses.
2) See Transfer Agreements for articulation agreements with four-year colleges and universities.
---
NOTE: The following performance ensembles are open to all students and do NOT require matriculation in the music curriculum. Each ensemble is 2 credits:
MUS131: Guitar Ensemble
MUS132: College Orchestra
MUS133: Symphonic Band
MUS134: Jazz Ensemble
MUS135: College Choir
MUS136: Suffolk Singers (MUS135 is corequisite)
MUS138: Contemporary Music Ensemble (2 credits)
Program Learning Outcomes provide you with an overview of the skills and knowledge you will attain after graduating from the Suffolk County Community College's degree or certificate programs.
Contact Us
Music Department
Ammerman Campus
Southampton Building, Room 18
533 College Road,
Selden, NY 11784
(631) 451-4346
robertc@sunysuffolk.edu
Central Admissions
Phone: (631) 451-4414
Fax: (631) 451-4415
admissions@sunysuffolk.edu
Office Hours:
Monday - Friday
9:00 a.m. - 5:00 p.m.
Course Description
div id="lightbox display - no content updated