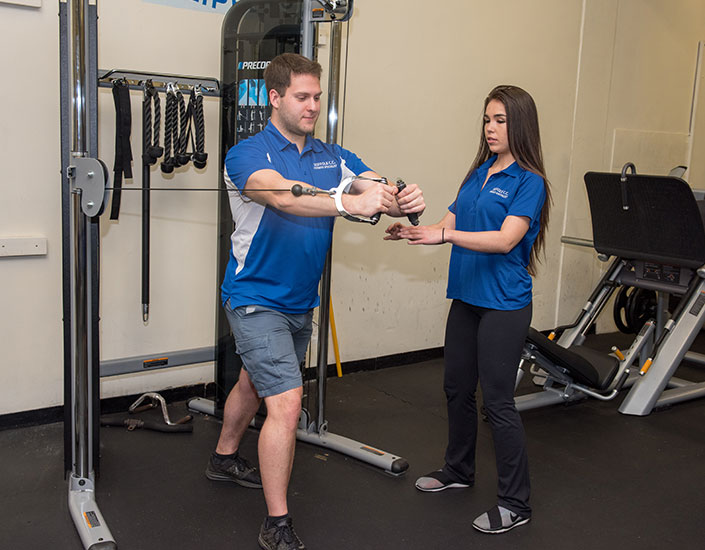 Program and Course Information
Ammerman
HEGIS Code -

5219

, CIP Code -

51.0806
Program Learning Outcomes
Curriculum Code:

PHTA-AAS
The four-semester plus one five week summer session Physical Therapist Assistant (PTA) program prepares the graduate to work under the direct supervision of a licensed physical therapist (PT). The PTA assists the PT in providing physical therapy services to individuals with changes in physical function and health status resulting from injury, disease, or other causes, and/or providing prevention services to promote health, wellness, and fitness. Tasks performed by the PTA include instruction in therapeutic exercise and functional training, utilization of specialized equipment and biophysical agents, communication with the PT regarding the response of individuals to interventions, documentation of treatment sessions, and interaction with other health care providers, patients, and their families. Clinical experience in a variety of settings allow the student to explore various specialties.
The curriculum is accredited by the Commission on Accreditation in Physical Therapy Education (CAPTE) of the American Physical Therapy Association (APTA) and leads to the Associate of Applied Science degree (AAS). Completion of the four-semester plus one five week summer session program and the passing of the National Physical Therapy Examination (NPTE) are required for certification and employment as a PTA in New York State.
Graduates have the opportunity to work in a variety of settings, including hospitals, private physical therapy offices, rehabilitation facilities, schools, and skilled nursing facilities. Salaries compare favorably with other professions with similar academic preparation and may vary depending upon the type of facility and geographic location.
Applicants for this degree should have a desire to work with people, demonstrate good communication and interpersonal skills and a strong aptitude in science.
No transfer credits will be accepted for PTA designated courses. The PTA program is a terminal program and is not designed as a transfer program to an upper division Physical Therapy Program.
Program Requirements
Incoming students must meet the health requirements of the Physical Therapist Assistant program which include proof of immunizations and an annual physical examination and PPD. Students must provide proof of certification in adult CPR, which includes training in an Automated External Defibrillator (AED), through the American Heart Association, the American Red Cross, or a college-credit CPR course. This certification must be maintained throughout the course of the program. Students who do not meet these two requirements will not be permitted to participate in the clinical portion of the program.
Students must achieve a minimum passing grade of C+ in BIO130, a minimum 2.5 GPA in the four program prerequisites (BIO130, ENG101, PSY101, and the restricted COM elective), a C in all PTA classroom and laboratory courses, and a C+ in all clinical coursework in order to continue in the program sequence. Any non-PTA-designated courses taken in the fourth semester must be taken in the evening or on weekends in order to accommodate the scheduling of clinical experiences. Two PTA courses in the fourth semester and five week summer session have an evening component. Clinical courses require students to travel to a wide variety of physical therapy facilities in Suffolk County and students are responsible for their own transportation. Fees for clinical courses will include the purchase of liability insurance. A criminal background check is required prior to starting PTA150. Drug testing may be required by some clinical facilities. Students are responsible for the cost of these services. Students shall maintain a student membership in the American Physical Therapy Association during the second through fourth semesters. Students will be required to complete 16 hours of community service and participate in eight hours of professional activities while in the Program.
Admission Procedures and Requirements
The program admits a class of 26 students in the fall semester only. There are four semesters and a five week summer session of course work which includes all required prerequisites, general education, liberal arts and sciences, technical and clinical courses. Application deadline is January 15. The PTA program is competitive and meeting minimum requirements does not assure acceptance into the program.
MINIMUM REQUIREMENTS FOR ADMISSION CONSIDERATION
Direct from high school
Continuing Student

High school diploma
85 academic average unweighted
85 in Regents biology and Regents chemistry (exam and course average) or equivalent
85 in Regents Algebra (exam and course average) or equivalent and completed the high school mathematics sequence through Algebra II (or equivalent)
ACT score of 21 in Reading and 22 in Math or an SAT score of 560 in Evidence-Based Reading and Writing and 540 in Math

*Anatomy and physiology course work may not be older than 10 years. Prerequisites of MAT007 or equivalent and any college-level biology course (such as BIO101 or BIO105).
Please contact the Ammerman Campus Admissions Office or the PTA program for a copy of the program's Admissions Information Packet and fact sheet outlining selection criteria and specific admissions policies.
FIRST SEMESTER: 17 credits
Credits
BIO130: Anatomy and Physiology I
4
COL101: College Seminar
1
COM101: Introduction to Human Communication
or COM102: Interpersonal Communication
or COM105: Public Speaking
or COM107: Small Group Communication
3
ENG101: Standard Freshman Composition
3
♦
PTA103: Interventions I
1
♦
PTA104: Biophysical Agents
3
♦
PTA105: Introduction to Physical Therapy
2
SECOND SEMESTER: 16 credits
Credits
BIO246: Anatomy and Physiology of Human Movement
4
PSY101: Introduction to Psychology
3
♦
PTA106: Normal Movement and Development
3
♦
PTA107: Interventions II
1
♦
PTA150: Clinical Practicum I
1
♦
PTA151: Clinical Kinesiology
4
SUMMER SESSION: 3 credits
Credits
*♦
PTA200: Clinical Practicum II
3
THIRD SEMESTER: 16 credits
Credits
PSY210: Lifespan Development
3
MAT103: Statistics I
3
♦
PTA221: Musculoskeletal Physical Therapy
3
♦
PTA223: Neuromuscular Physical Therapy
3
♦
PTA225: Cardiovascular/Pulmonary/Integumentary Physical Therapy
1
♦
PTA226: Manual Therapy Interventions
1
♦
PTA229: Acute Care Physical Therapy
2
FOURTH SEMESTER: 12 credits
Credits
English Elective
3
*♦
PTA253: Data Collection and Clinical Practicum III
9
| | |
| --- | --- |
| MINIMUM CREDITS REQUIRED | 64 |
All technical (PTA) courses must be taken in the semester scheduled.
*
Course has an evening component or must be taken in the evening.
♦
These courses constitute the major courses in this curriculum.
NOTE: While students will not be prohibited from pursuing the PTA program, students who have previously been convicted of a felony or misdemeanor are advised that their prior criminal conviction may impede their ability to complete the clinical requirements of the PTA program, sit for the NPTE, and become certified in New York State as a PTA. Students who have concerns about such matters are advised to contact the PTA Program Coordinator. Applicants with criminal convictions who are interested in pursuing the PTA program and state licensure or transfer to a program at another institution leading to professional licensure or certification are encouraged to contact the Office of Professions/State Board of Physical Therapy at www.op.nysed.gov. Students with prior criminal convictions who are interested in pursuing this program should refer to the following procedure for additional information.
Program Learning Outcomes provide you with an overview of the skills and knowledge you will attain after graduating from the Suffolk County Community College's degree or certificate programs.
The Physical Therapist Assistant Program at Suffolk County Community College is accredited by the Commission on Accreditation in Physical Therapy Education (CAPTE), 1111 North Fairfax Street, Alexandria, Virginia 22314.


Telephone: (703) 706-3245
Contact Us
Admission Counselor
Meghan DeMayo-Dalen
(631) 451-4529
demayom@sunysuffolk.edu

Program Coordinator
Dr. Keith Perrucci
(631) 451-4017
perruck@sunysuffolk.edu

Ammerman Admissions
533 College Road
Selden, NY 11784
(631) 451-4111
Hours:
Monday - Friday
9 a.m. - 6 p.m.

Central Admissions
Phone: (631) 451-4414
Fax: (631) 451-4415
admissions@sunysuffolk.edu
Office Hours:
Monday - Friday
9:00 a.m. - 5:00 p.m.
Course Description
div id="lightbox display - no content updated