For Immediate Release
April 2, 2014
Suffolk Students Honored For Exceptional Academic Achievement, Service to Community, Leadership.
Fourteen Suffolk County Community College students were honored for exceptional academic achievement at a ceremony hosted by SUNY Chancellor Nancy L. Zimpher at the New York State Capitol today. Notably, Suffolk had the most Chancellor's Award recipients for Student Excellence among community colleges. Six of the students are Phi Theta Kappa All-New York Academic team recipients.
"Our students, recognized for their outstanding academic achievements, leadership and service, exemplify the very best our college has to offer," said Suffolk County Community College President Dr. Shaun L. McKay, "and they are shining examples for other students across our campuses and in our communities."
The SUNY Chancellor's Award for Student Excellence was created to recognize students who have best demonstrated, and been recognized for, the integration of academic excellence with accomplishments in the areas of leadership, campus involvement, athletics, community service, creative and performing arts, or career achievement. This year's honorees have an overall grade point average of 3.8 (out of 4) and have demonstrated significant contributions to the College and community.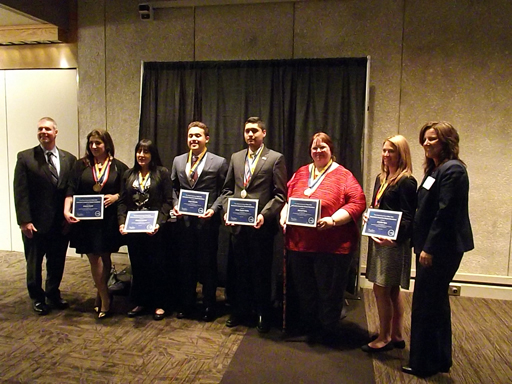 "Students honored with the Chancellor's Award for Excellence, and those recognized by Phi Theta Kappa, truly embody the power of SUNY," said Chancellor Zimpher. "As proven leaders and role models, scholar athletes, creative artists, and civic volunteers, each student is recognized not just for academic achievement, but also for the profound impact they have on college campuses and local communities across New York State. Congratulations to the Suffolk County Community College students being recognized today."
SUNY Chancellor's Awards Recipients
Elizabeth Ammenworth -- Bayport
Sameer Anand – Baiting Hollow
Amie Bernstein -- Holbrook
Taylor Biondi -- Holbrook
Angelina Curley -- Sayville
Felipe Espitia-Cetina-- Brentwood
Jennifer Ilgaz -- Eastport
Amanda Koscik -- Commack
Suzanne Loevner – Bay Shore
Bryan Nee – East Setauket
Maryam Rabbani – Bay Shore
Deborah Rehm -- Shirley
Danielle Safaty -- Hauppauge
Jorge Vallecillo —West Islip
The Phi Theta Kappa Academic Team Awards
recognize and encourage the academic achievement of two-year college students, and provide opportunities for individual growth and development through participation in honors, leadership, community service and fellowship programming.
Phi Theta Kappa Academic Team Awards
First Team:
Angelina Curley * Coca-Cola Scholarship-Silver
Amanda Koscik * Coca-Cola Scholarship-Bronze
Deborah Rehm
Third Team:
Sameer Anand
Felipe Espitia-Cetina
Jennifer Ilgaz
* This program is sponsored by the Coca-Cola Scholars Foundation and is administered by Phi Theta Kappa Honor Society.