For Immediate Release
May 15, 2014
STEM Center on Suffolk's Michael J. Grant Campus Closer to Becoming Reality.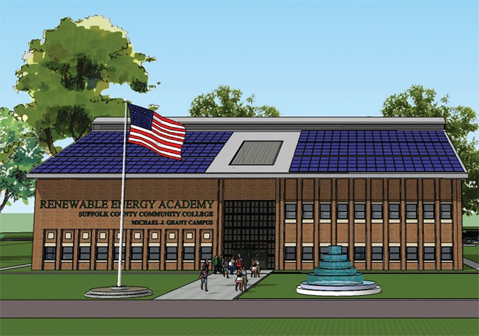 STEM Center
A two-story, 33,792- square-foot Renewable Energy and Science, Technology, Engineering and Math (STEM) Center on the Suffolk County Community College Michael J. Grant, Brentwood campus that will be the first of its kind in the state community college system moved closer to reality when the Suffolk County legislature appropriated funding for design and planning of the new facility on May 13. Fifty percent of the $19.5 million center's funding comes from New York State.
The new facility will house laboratories and classrooms to teach installation, maintenance and repair of solar, photovoltaic, wind, geothermal and other green power technologies, according to Suffolk County Community College President Dr. Shaun L. McKay who said plans call for the building to be solar-powered with geothermal heating and would contain a prototype solar house on rails that could be used indoors or rolled outside to test various renewable energy materials.
"Importantly, "McKay explained, "the second floor of the facility will serve as an incubator in conjunction with Stony Brook University, as well as space for cybersecurity educational and development opportunities."
"The College's approach is far-reaching and will set Suffolk County apart from others in the state," McKay said and added that the center would help meet "the workforce needs of area businesses by increasing the pool of technicians that are skilled in renewable energy systems."
Dr. McKay thanked County Executive Steve Bellone and the members of the Suffolk County Legislature for their vision in approving such a technologically advanced facility for our students and local industries.
McKay said the new building will be sited next to the College's Workforce and Development Center on the Michael J. Grant Campus.