For Immediate Release
April 12, 2017

Suffolk to Host Research Conference, Garners Major Foundation Support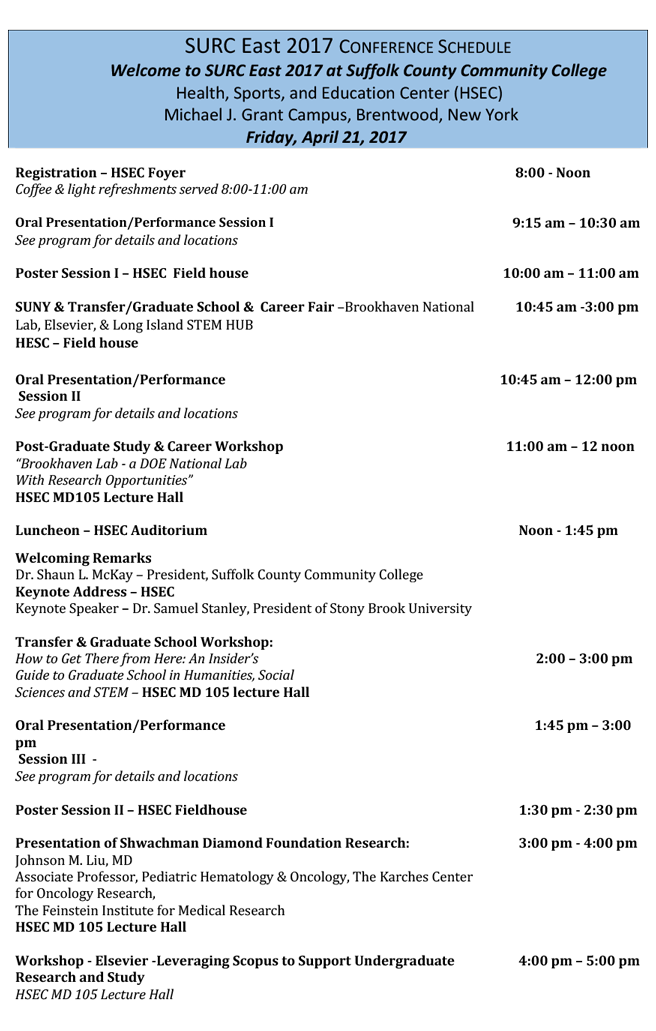 It's a community college first.
Suffolk County Community College will be the first community college to host a SUNY Undergraduate Research Conference (SURC) it was announced by Suffolk County Community College President Dr. Shaun L. McKay. In another first, McKay said, the conference has garnered the support of a major research foundation, the Swachman Diamond Project, that will provide an endowed STEM scholarship. McKay said it is rare for community colleges to be recognized by and receive the support of major research foundations.
SURC, hosted each year by a different SUNY institution, will bring together more than 1,000 undergraduate student researchers and faculty mentors from more than 25 SUNY and CUNY colleges for a full day devoted to student presentations in wide-ranging disciplines, including science, the performing arts, humanities, and others.
A luncheon will feature keynote speaker SUNY Stony Brook President Sam Stanley. SURC will also include a SUNY Graduate School and Transfer Fair, and professional development workshops for students and faculty.
"Original research and creative activity are widely recognized as high-impact educational experiences that positively affect undergraduate students' completion rates, career prospects and readiness for transfer and graduate study. Most SUNY campuses encourage research and creative activity throughout the curriculum, in capstone experiences and/or internship placements. This is a tremendous opportunity for all involved and we look forward to sharing this student-focused event with you," said President McKay.
"We are delighted to partner with the Shwachman Diamond Project to advance STEM research", explained Sylvia A. Diaz, Ph.D., LMSW, Executive Director of the Suffolk Community College Foundation. "Their award provides support to present the highly regarded SUNY Undergraduate Research Conference (SURC) and will raise awareness of Shwachman Diamond Syndrome and other rare bone marrow failure conditions, but they went even further and made a generous gift to permanently endow the Shwachman Diamond Project Undergraduate Research Scholarship at Suffolk County Community College. This scholarship will be awarded annually to Suffolk's promising science, technology, engineering and mathematics (STEM) students who are engaged in scientific research."
The Shwachman Diamond Project Ltd. was established in 2005 as a 501(c)3 charitable organization with a mission of fundraising to support research into treatments and a potential cure for Shwachman Diamond Syndrome and other bone marrow failure syndromes. In keeping with this mission, the organization works to encourage cord blood collection and funds research projects related to this area. 

Since its inception, SDP has funded many research projects, including the development of The Shwachman Diamond Syndrome Registry at the Fred Hutchinson Cancer Research Center in Seattle, Washington.
"Suffolk County Community College has set the bar high as the first community college to host this prestigious research conference and the first to receive funding to offset conference costs with generous gifts from the Shwachman Diamond Project and scientific publisher Elsevier," explained SURC East Coordinator Candice Foley, Ph.D., a Professor of Chemistry and STEM Chair at Suffolk County Community College. "Moreover, another first was achieved by securing funds to support scholarships for community college undergraduate researchers who will continue on the successful path to discovery at Suffolk and beyond."
SURC is a multidisciplinary spring semester event hosted each year by a different SUNY institution. The third annual SURC will be hosted at two SUNY locations: SURC East at Suffolk County Community College in Brentwood, on Friday April 21 and SURC West on Saturday, April 22, 2017 at SUNY Fredonia.