For Immediate Release
August 29, 2017

Restorative Nature, Paintings and Sculpture by Gina Gilmour, Sept. 5 – Oct. 24, Lyceum Gallery
Restorative Nature is an exhibit of paintings and sculpture by Gina Gilmour ranging from small ceramic sculptures to paintings up to six feet high.
Gilmour depicts transformations using the rhythms and images of nature and personal history. Some works are of plush jungle foliage unfurling an awakening figure, while others show a tiny swimmer enjoying her humble place in a vast rippling sea. Still others use a layering of images: animals, people, and places in patterned memory compositions.
"I paint experiences that I am working through, and it often leads me to ongoing painting cycles and to some resolve or restorative place," Gilmour said.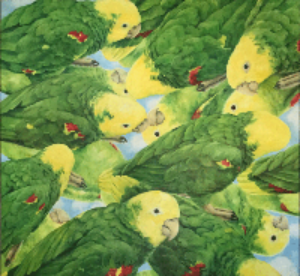 Gilmour is the recipient of a number of artists' fellowships that have taken her around the world, including the American Field Service Program in Okayama, Japan; The MacDowell Colony in New Hampshire; The Karolyi Foundation Fellowship in France; The Julia and David White Artists' Colony Fellowship in Costa Rica; and The William Steeple Davis Foundation Residency in Orient, NY. Gilmour has exhibited her work in various museums and galleries including the National Museum of Women in the Arts (Washington, DC); The Alternative Museum (New York, NY); and the Ron Feldman Gallery (New York, NY). Her work is in numerous public collections including The Newark Museum (Newark, NJ); The North Carolina Museum of Art (Raleigh, NC); and the Bechtler Museum of Contemporary Art (Charlotte, NC). Gilmour received a B.A. from Sarah Lawrence College, Bronxville, NY.
Restorative Nature will run from Sept. 5 through Oct. 24, 2017 at The Lyceum Gallery, in the Montaukett Learning Resource Center on the Eastern Campus of Suffolk County Community College, Riverhead.
A public reception will be held on Wednesday, Sept.13 from 4 to 6 p.m. Refreshments will be served.


Gallery hours:
Monday - Thursday, 10 a.m. - 7 p.m.
Friday, 10 a.m. - 4 p.m.
Saturday, 11 a.m. - 4 p.m.

The gallery is closed on Sundays and holidays (exceptions: gallery closes at 5:30 on Wed., 9/20 and 3:30 on Tues., 10/10; gallery closed on Thurs, 9/21 and Sat., 9/30). Call (631) 548-2536 for more information.

Directions to the Eastern Campus: Take the Long Island Expressway to exit 70. Take County Road (CR) 111 four miles to County Road 51. Turn left toward Riverhead and go north on CR 51. After 3.5 miles, turn right onto Speonk-Riverhead Road to the campus entrance on the right