For Immediate Release
February 17, 2023
Artist Marta Baumiller's Plastyka at Lyceum Gallery in Honor of Women's History Month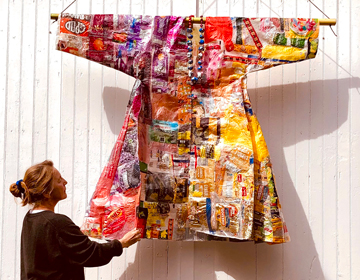 Artist Marta Baumiller's over life-sized kimono, a type of royal robe that Baumiller created by ironing plastic packaging together into a fabric which she then sewed into a kimono.
Suffolk County Community College's Lyceum Gallery will host artist Marta Baumiller's Plastyka from March 3 through April 1, 2023 in honor of Women's History Month. An artist's reception will be held on Thursday, March 9 from 4 to 6 pm.
Baumiller "upcycles" everyday consumer plastics into monumental works of art. In Plastyka, the artist confronts the devastating effects of plastics on our environment. Often using packaging from grocery products, the artist, herself has used, Baumiller spares the plastics from the landfill and incorporates them into beautiful clothing, tapestries, collages, and video projected sculptures.
On view is an over life-sized kimono with matching boots, a type of royal robe that Baumiller created by ironing plastic packaging together into a fabric which she then sewed into a kimono. Also on view are her 5-foot, floral tapestries which she also created from pressed plastics, and a 16-foot weaving the artist designed especially for this exhibit. Baumiller's lyrical videos of meadows teeming with life are projected onto a sculptural canopy she crafted, which serves to sooth while also accentuating the environmental injury we've caused.
Originally from Poland and now living in Aquebogue, Baumiller's remarkable artistic dexterity with non-traditional media is borne from her diverse backgrounds. The artist has worked as a costume and fashion designer, a milliner, a lighting designer, and a product designer.
Baumiller received her BFA from the Kansas City Art Institute and Maryland College of Art and completed her MFA at Stony Brook University.
Baumiller's work can be found in galleries, hotels, and stores around the globe from The Straw Hat Restaurant in Anguilla to Salesforce offices in Silicon Valley and Westin Hotels worldwide. Her work has also been published in the New York Times, Wallpaper, and Interior Design Magazine, among others.
She has exhibited her work at the East End Arts Council, the AOS Gallery, the Zuccaire Gallery at Stony Brook's Staller Center for the Arts, the Serendip Gallery in Kobe Japan, ArtsWestchester, the SUNY Chancellors Gallery in Albany, Farmingdale State College, and Portal: GI, Governor's Island, New York City.
For more information about the artist visit martabaumiller.com or visit her news blog at:
https://www.martabaumiller.com/news/previous/2#press
The Suffolk County Community College Eastern Campus is at 121 Speonk-Riverhead Road in Riverhead. The Lyceum Gallery is in the Montaukett Learning Resource Center.
Gallery hours are:
Monday -Thursday 10 a.m. - 7 p.m.
Friday - 10 a.m. - 4 p.m.
Saturday -11 a.m. – 4 p.m.
Sunday - closed
Exceptions: (Spring Break Hours: 3/20 – 3/24 open 9:30 a.m. – 4:30 p.m. and closed on 3/25) Call 631 548-2536 for more information.