For Immediate Release
June 25, 2019
Grant Targets Underrepresented STEM Faculty Development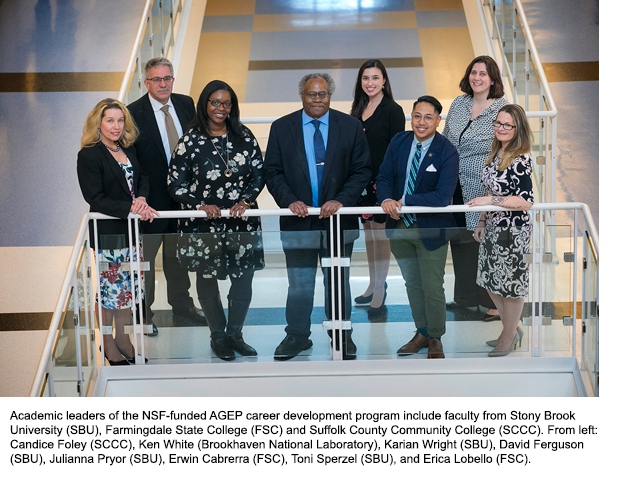 AGEP Grant faculty leaders
A $283,938 grant from the National Science Foundation has been awarded to Suffolk County Community College for a five-year project to provide pre doctoral scholars from Stony Brook University with mentoring, professional development training, and teaching skills gained through microteaching and mentoring with Suffolk County Community College STEM faculty.
The "Collaborative Research: An AGEP Alliance Model to Advance Underrepresented Minority STEM Faculty at Predominately Undergraduate Institutions," grant brings together three SUNY institutions – Stony Brook University, Farmingdale State College and Suffolk County Community College -- with the goal of developing, implementing, studying, institutionalizing, evaluating and disseminating a model focused on career development for under represented minority (URM) doctoral degree or post-doctoral training scholars in science, technology, engineering and math (STEM), who successfully transition into early career STEM faculty positions at predominately undergraduate institutions (PUIs).
The grant, under the direction of Dr. Candice Foley and AGEP Project Coordinator Nina Leonhardt, provides Suffolk County Community College with a robust model for serving URMs at all levels in STEM.
Dr. Candice J. Foley, PI said, "Suffolk County Community College has a robust model for serving underrepresented minority students at all levels in STEM. The NSF AGEP program will complement our ongoing grant-based initiatives, including NSF S STEM, NSF LSAMP, and NIH IRACDA which also address URM in STEM. It is vital for our URM students to see themselves reflected in the faculty and this program will provide Stony Brook URM doctoral students with quality teaching and mentoring experiences from our Suffolk County Community College STEM faculty as well as integration into our academic environment to advance their teaching skills and transition into early career STEM faculty positions."
Universities and colleges struggle to recruit, retain, and promote URM STEM faculty who serve as role models and academic leaders for URM students to learn from, work with, and emulate. The AGEP has the potential to advance a model to improve the success of URM early career STEM faculty in predominantly undergraduate institutions, which ultimately leads to improved academic mentorship for URM undergraduate students in STEM at community college, two-year academic institutions, and other undergraduate institutions.
SUNY Chancellor Kristina Johnson recently launched PRODI-G (Promoting Retention, and Opportunity for Diversity, Inclusion and Growth), a program to attract and retain an increasingly diverse and inclusive faculty.