For Immediate Release
February 6, 2020
Students Travel to Albany, Make Appeal for Funding; Meet With Assembly Speaker, Senate Minority Leader and Others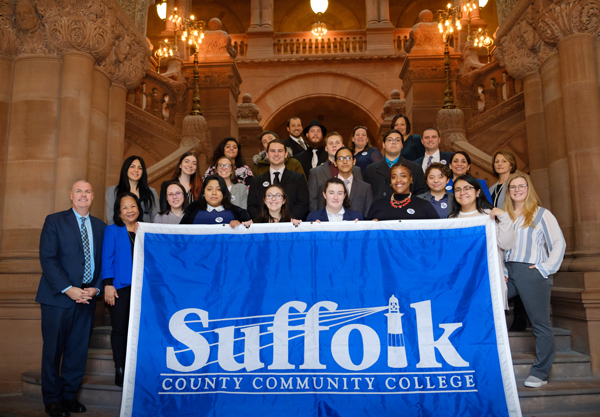 Three dozen students, administrators and College Trustee Priscilla Zarate made the rounds among state legislators in Albany on Tuesday Feb 5. The students shared their stories and asked for State support for 100 percent floor funding and restoration of the child care subsidy for SUNY.
Students spoke with Assembly Speaker Carl Heastie, Senate Minority Leader John Flanagan, Senators Ken LaValle, Anna Kaplan, Monica Martinez, Jim Gaughran, Phil Boyle and Assemblymen Steve Englebright and Michael Fitzpatrick.
Students also attended a joint senate and assembly budget hearing on higher education and witnessed the testimony and questioning by lawmakers of SUNY Chancellor Kristina Johnson.