For Immediate Release
April 8, 2022
Dr. Edward T. Bonahue Inaugurated as Suffolk County Community College's Seventh President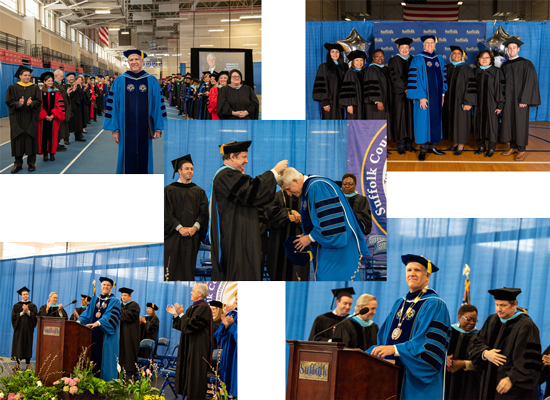 Inauguration
Suffolk County Community College formally inaugurated Dr. Edward T. Bonahue as its seventh president at a ceremony attended by well-wishers, family and friends, including representatives from the State University of New York, Long Island business and community leaders; labor, state and local elected leaders, college and university presidents from throughout Long Island and the region; the College's Board of Trustees, administration, staff, faculty and students.
Bonahue, a seasoned higher education executive, was appointed in April 2021, and assumed leadership of Suffolk, SUNY's largest community college, on June 28, 2021 after a comprehensive, months-long, national search by the college's board of trustees and a diverse search committee composed of college administration, faculty, elected officials, community members, business and labor leaders and others.
In his address to those gathered and the community, Bonahue recalled the College's beginnings in 1959 and looked to the future.
"Today," Bonahue said, "we celebrate a decades-long heritage of service and education for the residents of Suffolk County. We know that our daily work–whether in academics, in student services, in workforce training, or in any of the college's support services—continues a rich legacy of service. And we honor and commend the work performed by generations of caring college employees—faculty and staff who could choose to do anything, choose to work anywhere, but who have chosen to work here and embrace this mission -- of fostering student development, promoting a culture of lifelong learning, and ultimately, serving the community in which we live."
"After our Spring semester commencement exercises next month," Bonahue said, "Suffolk will have graduated approximately 140,000 alumni and witnessed the transfer of thousands of those students to four-year institutions on Long Island, within the SUNY system, and throughout the United States, as well as the start of thousands of successful professional careers. Indeed, our graduates are now found everywhere: in our hospitals, schools, and businesses, among our own College faculty and employees, and among many of the Suffolk County community and business leaders and elected officials here today."
Reflecting upon his personal history, Bonahue said, "Around the same time that Suffolk County Community College offered its first classes at Sachem High School, coincidentally, a pair of young educators arrived at that same school—one from upstate New York and one from North Carolina. Both were children of the Great Depression and both were the first in their family to attend college — he was the son of a railroad laborer, and she was the daughter of a laundryman. These two Suffolk County educators understood how an affordable public education could change lives, because they lived it. As their son, I am proud to say that many of the values I associate with the best of community college education—open access, educational opportunity, a rigorous but supportive learning community, and the opportunity to lift up individuals, families, and communities—the foundation of those values was laid for me by my parents. They are here today, and I want to thank them for their lifelong commitment to the value of education."
Bonahue also underscored the importance of education in fostering good citizenship. "Amidst the turbulence of present cultural moment, we own that the work isn't easy, but embrace it as a critical duty. We acknowledge that fostering among our students a sense of citizenship and civic engagement, and teaching about the rule of law, and the rights of democracy, its many individual freedoms and the privilege of self-determination, must also be accompanied by confirming the responsibilities of citizenship, including service to community and country, appreciation for the power of diversity, and the willingness to speak and act in defense of our freedoms," he said.
"So, as we turn the page to a new chapter in the life of this college," Bonahue said, "the hundreds of us engaged in the strategic planning process are already starting to write the next chapter. We affirm our commitment to serving all students, regardless of background or previous experience in higher education, and we know that the future of Suffolk County Community College means embracing the part-time student, the working student, the parenting student, as well as those who come to us straight out of high school," Bonahue stressed.
"We affirm our commitment to providing equity in access and equity in student success. We affirm that as a comprehensive college, career training, workforce development and economic development are integral and fundamental parts of our mission. We respect that not everyone has the resources or privilege to be a full-time student for two years, and so we share our students' sense of urgency about changing their lives sooner. In short, our long-term mission and strategy will affirm that the fundamental definition of Suffolk County Community College, the essence that defines it and us, lies in the hundreds of touchpoints our students experience each day. In the classroom, in our services, and from the first time they meet an admissions counselor to their graduation into an alumni status. The student's experience of the college is the reality of the college. And we will keep that truth at the center of how we carry out our work from day to day, from semester to semester, and from year to year."
"Our confidence in and excitement for President Bonahue's leadership at Suffolk County Community College cannot be overstated. Under his governance and guidance, the future of this honored institution and those of its diverse and driven student body is in good hands," said SUNY Interim Chancellor Deborah F. Stanley. "My congratulations to President Bonahue on his inauguration. I look forward to seeing him build upon the high-quality education this campus consistently delivers."
"We are proud to welcome Dr. Edward Bonahue as the seventh president of Suffolk County Community College. Ed has dedicated his professional life to higher education and will help our College provide greater access and innovate and advance in the ways we support students and serve our communities and county," said E. Christopher Murray, chair of the College's Board of Trustees. "I want to extend my appreciation on behalf of the entire Board of Trustees to the many community members who participated in the selection process. Your engagement served as a critical framework throughout the search and has helped lead us to this exciting new chapter in Suffolk County Community College's history." Murray said.
"Dr. Bonahue's strong commitment to academic excellence, student engagement, and local partnerships will continue to push Suffolk Community College forward and promote opportunities for all through an education that transforms lives and builds communities," said Suffolk County Executive Steve Bellone. "Congratulations to both Dr. Bonahue and Suffolk County Community College. I look forward to our continued partnership."
"Since day one Dr. Bonahue has been a man of action," said Suffolk County Community College Student Trustee Zachary Frost, "he cares deeply about student success and ensuring that every student has a chance to succeed. His leadership has, and will continue to inspire our students for years to come."
"We look forward to continuing our great, collaborative work to further enhance student success. For it is this work that has made Suffolk County Community College one of the best academic institutions on Long Island and in the State of the New York," said Dante E. Morelli, Ph.D., Associate Professor, Communication and President of the Suffolk County Community College Faculty Association.
Belinda Alvarez Groneman, chair of the Suffolk Community College Foundation Board of Directors said, "Today we welcome the experience Dr. Bonahue has amassed as a nationally recognized and highly respected higher education professional, the professionalism that Dr. Bonahue brings to our data-driven decision making and we celebrate Edward Bonahue as a proud, hometown graduate of Ward Melville High School and the Three Village School District. Our college family welcomes Dr. Bonahue and his family home to Suffolk and we extend our very best wishes to him, his spouse Tina, sons Alex and Edward and daughter Maddie."
Community Advocate and Suffolk Community College Foundation Board Member Mary Reid said, "I began my service with the Suffolk Community College Foundation as a member of the Board of Directors some seven years ago, our main goal - fund- raising for scholarships. In early 2020, I was asked to serve as a member of the Suffolk Community College Presidential Search Committee. Our duty - to make recommendations to the Board of Trustees for the position. Then, like everyone else, we waited for the final results. In June of 2021, after several months of no news, I was happy when I heard that Dr. Ed Bonahue had been appointed as the seventh President of Suffolk County Community College. At our first in person meeting, I knew that he was the right person for the job. My prayers had been answered."
About Suffolk County Community College President Dr. Edward T. Bonahue
Dr. Ed Bonahue, a seasoned higher education executive is the seventh President of Suffolk County Community College, the largest community college in the State University of New York (SUNY) system.
Bonahue has more than 25 years of experience in community college education, including service as a tenured faculty member and senior executive, he joined SUNY Suffolk on June 28, 2021.
Previously, Bonahue served as Provost and Vice President for Academic Affairs at Santa Fe College in Gainesville, Florida where he provided leadership for planning, management, and assessment of all credit and non-credit instructional programming, and economic and workforce development initiatives. He successfully implemented nine new baccalaureate programs and multiple associate of science degree and certificate programs, as well as two deferred-admission partnerships with the University of Florida. In addition, he served as the associate vice president for academic affairs; chair, Department of Humanities and Foreign Languages; co-chair, International Education Initiative, and he earned tenure as a professor of Humanities and Theatre.
Bonahue's scholarly research on Renaissance literature has appeared in Studies in Philology, Renaissance Papers, Studies in English Literature, and elsewhere, and his work on Stephen Sondheim has been reprinted and cited repeatedly since its first publication. His study on best practices in international education has been published by NASPA, and he has served as Managing Editor of Shakespeare Quarterly at the Folger Shakespeare Library. In 2009, Bonahue was a Fulbright Scholar with the U.S. International Administrators Program in Germany, and in 2016-2017, he was an Aspen Institute College Excellence Program Presidential Fellow. He currently serves on the Board of Directors of the Hauppauge Industrial Association.

Dr. Bonahue earned the Ph.D. and M.A. degrees in English literature at the University of North Carolina and his B.A. in English literature from Wake Forest University. He is also a proud graduate of Ward Melville High School and the Three Village School District.
About Suffolk County Community College
SUNY Suffolk is a comprehensive publicly-supported, two-year, open enrollment college, with campuses in Selden, Riverhead and Brentwood, and downtown centers in Sayville and Riverhead. The college has an enrollment of more than 23,000 credit students, 7,000 continuing education students, and more than 140,000 alumni.