For Immediate Release
June 25, 2019
Breaking Boundaries, Exhibit by East Hampton and New Suffolk Artists, March 12 – April 14

Breaking Boundaries, an exhibit of collages and paintings by Garance and Jewelry by Elisca Jeansonne will run from March 12 through April 14, 2018 at Suffolk County Community College's Eastern Campus Lyceum Gallery.

A reception will be held April 11 from 4 - 6 p.m. Refreshments will be served.

Breaking Boundaries is a celebration of the creative spirit of two artists who have chosen the unexpected, over more conventional forms of art making.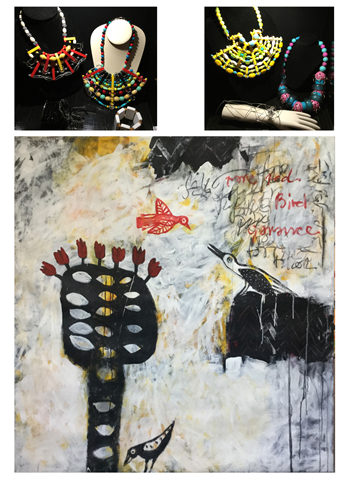 Elisca Jeansonne, of East Hampton, creates jewelry that at times borders on body sculpture. Crafted from "upcycled" items that surprise viewers who delight in the discovery of game pieces, toy fragments, house hold appliances, chandeliers and lighting fixtures. Items appear in ways that hide their identity. The artist may use vintage objects that carry nostalgia from the 1930's. In the spirit of Duchamp and the Dadaists, Elisca works with objects that have been in circulation, that have had a pre-life, and she elevates them to a new, precious state by virtue of the artist's keen imagination along with her impeccable craftsmanship. Earlier in her career, Elissa painted pop imagery: toys, consumer objects…, "It was spontaneous. Whatever I found became part of my work. I would mix
trompe l'oeil painting with 3D, real objects. I had a lot of scraps and naturally started turning them into jewelry," Jeansonne said.

Garance, of New Suffolk, NY, will be exhibiting her mixed media painted collages on canvas ranging in sizes up to six feet. A type of visual poetry, Garance layers images of animals, people, plant-life with her calligraphic text in gestural paint strokes. Opening a drawer of a myriad of old manuscripts, notebooks, photographs, etc. that she collects, she said, "I love to work on things that I find." Garance's work conveys the simultaneous sensing and thought of human perception and unleashes a compelling yearning and release into spiritual freedom.

Jeansonne was noticeably talented from an early age in her home town of Baton Rouge, Louisiana. She travelled to London, Rome, Switzerland, and Paris with her high school and became the first person in her town to be accepted to The Rhode Island School of Design. She received her BFA in Furniture Design and Construction in 1974 learning to work with metal, wood, and plastic. In 1982, Jeansonne moved to Sag Harbor to join the artist community of the east end and became an assistant to a number of artists including Balcomb Greene, Jack Youngerman, Connie Fox, and William King. Immersed in the creative spirit and art commerce of the east end, Elisca delved into her work with found objects. Elisca worked at east end art galleries including RVS Fine Arts and The Mark Humphrey Gallery. Her work was exhibited at Guild Hall, Hecksher Art Museum (Juror: Carter Radcilff,) and the Islip Art Museum. Jeansonne owned the Merz Gallery in Sag Harbor until 2010, where she exhibited art made from found objects and mixed media.

Garance was born in Zurich Switzerland and was strongly influenced by her mother, an accomplished sculptor. After receiving a degree in acting, Garance started her career as a painter. She received three separate travel grants from the Department of Cultural Affairs in Zurich, sending her on six month stays to Italy (1978), Paris (1984), and finally to NYC (1985) where she immersed herself in the lower Manhattan art scene. In 1995, Garance moved to New Suffolk, purchasing a former supermarket space to set up her large studio. She is the recipient of a number of awards. In 1991 Garance won the Award for Best Stage Set and Costume Design for the play 'Ach Armer Orpheus' Nestroy Theaterpreis, Vienna. Garance has continued her travels, going to Greece, Spain, India, Japan and Brazil, at time exhibiting her work. Most notably she was given a solo exhibit at the Museum of Modern Art in Salvador Da Bahia, Brazil, in 2003. http://www.garancestudio.com/about.html

Lyceum Gallery hours:
Monday - Thursday from 10 a.m. - 7 p.m.
Friday from 10 a.m. - 4 p.m. and Saturday from 11 a.m. - 4 p.m.

The gallery is closed on Sundays and holidays, (exceptions: closed on 3/31; closed after 4 p.m. on 3/13, Spring Break: 3/26 – 3/30 closed after 4 p.m.). Call 631 548-2436 for more information.