For Immediate Release
June 25, 2019
Sharks Take Silver at National Cheer Competition
The Suffolk County Community College Cheer Team placed second in the Open All Girl Division at the Universal Cheerleaders Association (UCA) Nationals held on January 13 at the ESPN Wide World of Sports Complex in Disney World.
Suffolk faced a tough division of 12 teams. Six went on to the finals. Ten of the 12 other colleges Suffolk competed against were four-year institutions. In past three years, Suffolk has brought home a bronze and two silver medals. The difference between first and second place at last year's Nationals was 11.2, this year it was .8 .
"I'm extremely proud of the accomplishments made by this year's team. They pushed through every obstacle with determination and perseverance. The planning and the rebuilding has already begun for nationals 2019 and the Sharks will be ready to return full force," said Head Coach Gina Caputo.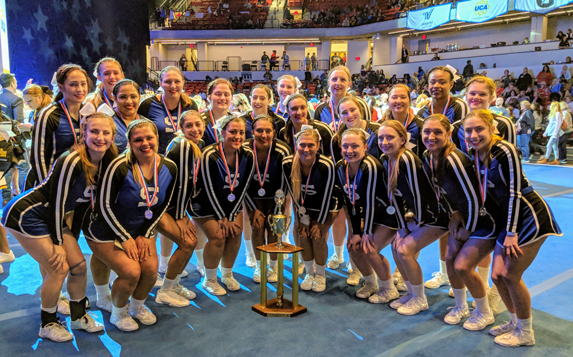 Top Row left to right:

Leighann Sepulveda (Sachem North HS), Rachel Steck (Comsewogue HS), Corina Bonifacio (Smithtown East HS), Genna Consalzaio (West Babylon HS), Danielle Mignogna (William Floyd HS), Jessica Ferretti-(Sayville HS), Kathryn Fritz (Newfield HS), Stefanie Espey (Islip HS), Jessica Geist (Newfield HS), Destiny Leonard (Riverhead HS), Leah Schweigert (William Floyd HS).

Bottom Row left to right:
Melanie Adams (Ward Melville HS), Gianna Modica (East Islip HS), Katlyn Alger (Sachem North HS), Angelique Scala (Longwood HS), Cameryn Graziano (William Floyd HS), Jessica Maina (Centereach HS), Ciara Meisner (East Islip HS), Alyssa Ambrosio (Kings Park HS), Emily White (Ward Melville HS), Jessica DeStefano (West Islip HS), Sarah Kavanagh (East Islip HS), Samantha Bona (Smithtown West HS).