For Immediate Release
January 9, 2018

Color and Light: Art by Janet Jennings, Anne Raymond, And Phyllis Hammond January 29 – March 3, 2018 at Suffolk
Color and Light, an exhibit of paintings by Janet Jennings and Anne Raymond, and sculpture by Phyllis Hammond at Suffolk County Community College's Lyceum Gallery in the Montaukett Learning Resource Center on the Eastern Campus is a celebration of the progression of daylight on our east end landscape, featuring the work of three artists who express the beauty of light. The exhibit will run from January 29 through March 3, 2018.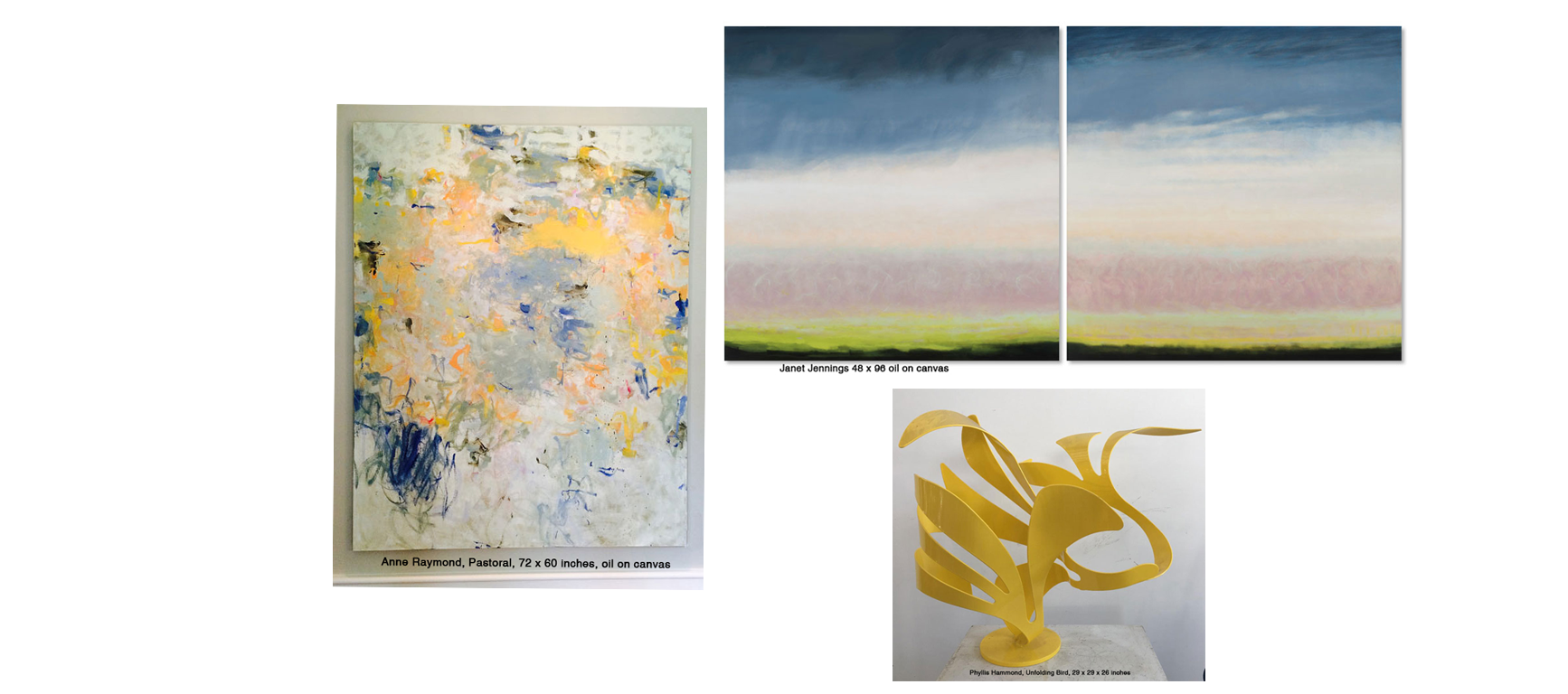 Anne Raymond and Janet Jennings, of East Hampton, show us how closely they have studied reflection on water and the changes in atmosphere in the winter sky. Jennings layers translucent oil glazes on canvas to create luminous horizontal bands of color that carry the import of landscape. Some appear as abstractions of pure light, while others have a direct reference to a particular place.
Raymond incorporates exuberant calligraphic paint strokes in her oils on canvas expressing the transitory quality of light. Inferences of landscape, reflections, and atmosphere give way to pure abstraction with her joyful use of color, line, and shape in "all-over" compositions.
Phyllis Hammond, of Springs, creates energetic sculptures that defy their medium: painted aluminum. She bends her curvilinear cut-outs into forms that appear to float upward, propelled by wind or tidal currents. Hammond paints her sculptures in bright colors with a heat cured powder coating. Phyllis Hammond is originally from Melrose, MA. She has been sculpting for over 60 years. After receiving a BS in Education from Tufts University, Hammond was awarded a trip to Japan, becoming the first woman to study at the Kyoto City College of Fine Arts. Hammond is a recipient of a 1981 National Endowment for the Arts Fellowship and a 2016 Pollack Krasner Grant. Hammond's sculptures have been featured in 17 solo exhibits and 80 group shows including "On the Edge," a 2017 outdoor sculpture exhibit at Dag Hammarskjold Plaza New York City. http://phyllishammond.com/curriculum-vitae/
Anne Raymond has work in the collections of the Museum of Fine Arts in Boston and the Blanton Museum of Art at The University of Texas at Austin. New York City's Epoch Investment Partners installed nearly 100 of her oil paintings and monotypes in their office space. Raymond's work was chosen by the US Department of State's Art in Embassies Program to be displayed in the U.S Embassy in Cyprus. Raymond grew up in Dallas and received her BFA from the University of Texas and later continued her studies at S.V.A in New York City. http://www.anneraymond.com/bio.php
Janet Jennings has been creating art on the east end of Long Island since 1981. A founding member of the Children's Museum of the East End in Bridgehampton, Jennings was the lead designer for their permanent exhibit installation. Jennings has taught at the Parrish Art Museum, Guild Hall and the Art Barge and currently teaches painting from her studio in East Hampton. Jennings has exhibited her work extensively throughout Long Island's east end and New York City. She received her BFA from the University of Dayton and later maintained a studio in New York City and studied at The Art Students League. http://janetjenningsart.com/bio.htm
An artists' reception will be held on Wednesday, February 21 from 4 p.m. to 6 p.m. Refreshments will be served.
Gallery hours are: Monday - Thursday 10 a.m. - 7 p.m., Friday from 10 a.m. - 4 p.m. and Saturday from 11 a.m. - 4 p.m. The gallery is closed on Sundays and holidays, (exceptions: closed evenings after 4 p.m. through 1/31 and closed on 2/19), call 631-548-2436 for information regarding hours of operation.