For Immediate Release
October 26, 2019
Suffolk Men's and Women's Cross Country Teams are Regional Champs; Men's Fifth Consecutive Title, Women's Second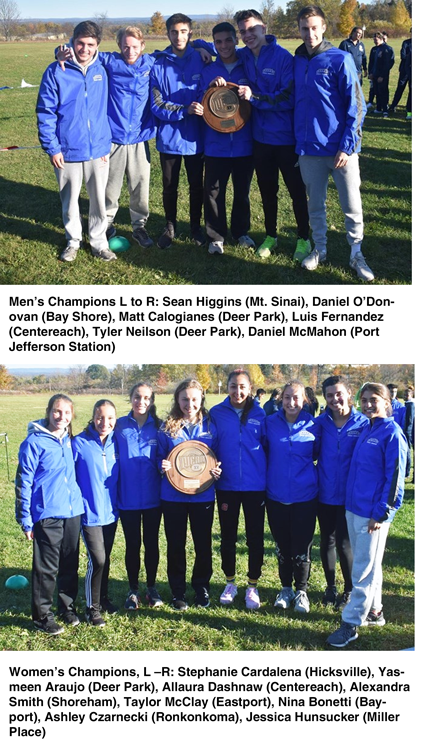 2019 Cross Country Champs Team Photos
Suffolk County Community College's Men's and Women's Cross Country teams are NJCAA Region XV Division III champions -- the men's fifth year running as champions and the women's second consecutive championship.
Suffolk Men's Luis Fernandez took first place in the championship race as did women's team member Alexandra Smith.
Head Coach Matt French was named both the men's and women's Coach of the Year, the eighth time he has been awarded the prestigious title.
"Both teams put a lot of pride out there on the course," French said. "Knowing that we had won last year, they wanted to measure up and they did."
The women's team topped Fashion Institute of Technology and Queensborough Community College for the championship.
The men's Sharks earned first place topping second-place Queensborough Community College and third-place Nassau Community College.
The Top-10 finishers in the event earned All-Region Honors:
1. Luis Fernandez - Suffolk (28:13.8)
2. David Soto - Orange (28:35.7)
3. Tyler Neilson - Suffolk (30:27.5)
4. Daniel McMahon - Suffolk (30:43.5)
5. Matt Calogianes - Suffolk (30:47.7)
6. Daniel O'Donovan - Suffolk (31:06.6)
7. Andre Coddington - Sullivan (32:29.0)
8. Sean Higgins - Suffolk (32:37.4)
9. Adam St. Germain - Orange (32:53.7)
10. Cameron Prillman - Kingsborough (33:21.0)

The Top-10 finishers in the event earned All-Region Honors:
1. Alexandra Smith - Suffolk (18:34.8)
2. Taylor McClay - Suffolk (19:47.3)
3. Yasmeen Araujo - Suffolk (21:03.9)
4. Allaura Dashnaw - Suffolk (21:18.5)
5. Shannon Culhane - FIT (22:01.5)
6. Nina Bonetti - Suffolk (22:21.7)
7. Monique Bergeron - FIT (22:36.5)
8. Sonja Feaster - FIT (23:33.2)
9. Mariah McKenzie - FIT (23:51.0)
10. Ashley Czarnecki - Suffolk (24:04.4)