For Immediate Release
May 4, 2023
Suffolk Cybersecurity Team 71st in National Cyber Competition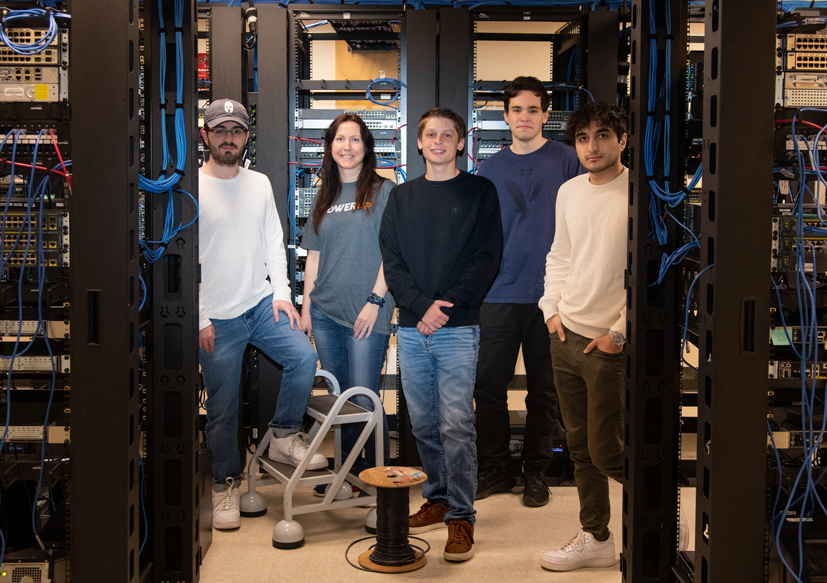 Suffolk County Community College Cybersecurity Club members, L to R: Giorgio Lomanto – Miller Place; Oleksandra Dalaya – Commack; , Lucas Knee – Miller Place; Jonathan Edwards – Middle Island; Ryan Riazi – Medford. Not pictured, Sean Bartoszewicz – Patchogue.
A team of six Suffolk County Community College Cybersecurity Club students finished 71st out of 316 teams in the team round of the National Cyber League Competition, besting teams from four-year colleges and universities.
Team members Oleksandra Dalaya, Jonathan Edwards, Sean Bartoszewicz, Lucas Knee, Ryan Riazi, and Giorgio Lomanto had to demonstrate skills that align with industry-recognized Computing Technology Industry Association Security+ competencies and the National Institute of Standards and Technology and the National Initiative for Cybersecurity Education framework.


The group participated in a type of computer security game called a Capture-the-Flag (CTF). In CTF games, players race to solve security-related challenges, often searching for digital "flags" hidden on servers, in encrypted text, or in applications. Challenges within the CTF are open-ended and require expertise and skills in a wide range of security-related topics: computer forensics, cryptography, network penetration testing, web security, system or network administration, among others. When a player submits a flag (or correct answer), they receive points for solving the challenge. The player or team with the highest cumulative score at the end of the game wins.
"The fact that our SUNY Suffolk students outperformed teams from selective four-year universities is testament both to their hard work, and to the quality and commitment of our faculty. In a world where information security is a critical daily concern, the expertise our students have learned will be a tremendous asset as they continue their academic and professional careers," said Suffolk County Community College President Dr. Edward Bonahue.
Suffolk County Community College Engineering Department Chair Dr. Wesley Francillion said, "The results of this competition demonstrates the quality of the education provided here at Suffolk rivals that of those provided at four-year universities."
"Great results are achieved not only by having a nationally recognized curriculum, but by having dedicated and enthusiastic students at Suffolk who are able to compete at the highest of levels," said Club Advisor Jonathan Sadowski.