For Immediate Release
July 21, 2022
Dean Johnson: The Artist and His Apprentice, March 14 - April 11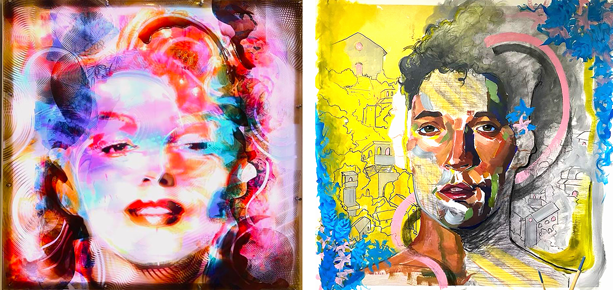 Dean Johnson's Marilyn Monroe, at left and Michael Dondero's Nate
Dean Johnson: The Artist and His Apprentice will be on exhibit at Suffolk County Community College's Lyceum Gallery on the Eastern Campus from March 14 through April 11. A public artist's reception will be held on Thursday, March 31 from 4 - 6 pm.
From the age of seven, Dean Johnson began creating works with the help of his father, an artist and art dealer. Entranced by the possibilities of his craft, Dean went on to study art and Russian literature at New York Institute of Technology. After two years in college, Dean decided to devote himself to his art.
"I was painting color wheels in art classes, but I was painting huge canvases at home, and they were selling more and more," Johnson said.
At the age of 21, Dean co-founded the Stricoff Gallery in SOHO and mounted his first solo exhibit. Today, Dean's work is showing in galleries in Florida, Connecticut, Massachusetts, and New York. His work is in many private collections in the United States, and in international collections in Russia, Africa, and the Caribbean.
Dean Johnson has provided a fertile creative environment for his aspiring apprentices, Michael and Bryan Dondero of East Islip, two recent art school graduates. They have been immersed in Johnson's artistic excitement, myriad materials, and computerized tools for creating. Johnson has supported their vision with his superb craftsmanship and his "sky is the limit" energy.
Johnson's work will be displayed alongside that of his two protege's at Suffolk County Community College's Lyceum Gallery. Among others, Johnson will exhibit his 48 x 48 in., portrait of Marylyn Monroe, a plexi-glass, resin, paint and digital work that lights up and changes color.
Michael Dondero will show his 36 x 36 in., acrylic and ink portrait, entitled Nate. Bryan Dondero will exhibit his 48 x 36 in., resin and hook-rug work, Coral Reef
Gallery hours are:
Monday - Thursday 10 am - 7 pm
Friday 10 am - 4 pm
Saturday 11 am – 4 pm
The gallery is closed on Sundays and holidays, (exceptions for Spring Break: closed evenings after 4 pm on 3/21 – 3/25. Closed on 3/26).
Please call 631- 524-2536 for more information.