For Immediate Release
June 25, 2019
Executive Director of College Foundation Appointed to Board of Mather Memorial Hospital
Executive Director of the Suffolk Community College Foundation Sylvia A. Diaz, PhD, LMSW has been appointed to the Board of Directors of John T. Mather Memorial Hospital in Port Jefferson it was recently announced.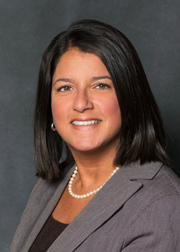 "I am delighted to have been selected to serve on the Mather Board of Directors alongside Kathryn B. Frey, a Suffolk County Community College alumna, who together with her husband Dr. Robert Frey made the largest and most generous alumni gift to their shared alma mater - Suffolk County Community College", explained Dr. Diaz. "Mather Hospital's new affiliation with Northwell Health brings the promise of world-class healthcare to the community and I look forward to advancing opportunities for Suffolk's students to find their pathways to success in Mather's comprehensive health care delivery system."

Mather Hospital is an accredited 248-bed, non-profit community teaching hospital dedicated to providing a wide spectrum of high quality healthcare services to Suffolk County residents. In late 2017, Mather Hospital became the newest member of the Northwell Health system. The merger was approved in November by the Mather Board of Directors and the Northwell Health Board of Trustees. Mather Hospital becomes Northwell's 23rd hospital and its fifth hospital in Suffolk County.

Dr. Diaz oversees all operations of the Suffolk County Community College Foundation including major, corporate and private donor gift acquisition and alumni relations. In her role, she works closely with the Suffolk County Community College president and all executive leadership to develop, build and manage relationships with both internal and external partners to achieve Foundation mission goals and objectives.

She was previously Director of Development for the Foundation and, earlier, Regional Vice President for the American Cancer Society, Suffolk County. She also is an adjunct professor in the Master of Science Program in Human Services Leadership at St. Joseph's College in Patchogue. Dr. Diaz received her doctorate in Social Welfare and her Masters of Social Work degree from Stony Brook University. She has a certificate in Parish Social Ministry from Fordham University Graduate School of Social Service. She was named 2016 Social Worker of the Year by the National Association of Puerto Rican Hispanic Social Workers and received the 2015 Unidad Latina Leadership Award from the New York State Senate.