For Immediate Release
June 25, 2019
Entrepreneurial Assistance Program Earns Annual Award for Excellence, Outstanding Performance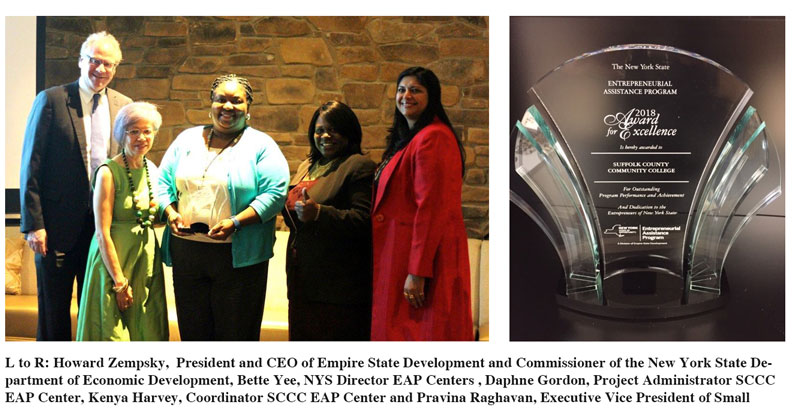 The Suffolk County Community College Entrepreneurial Assistance Center's Daphne Gordon and Kenya Harvey accepted the NYS Economic Assistance Program (EAP) Center Annual Award for Excellence for Outstanding Performance and Achievement and Dedication to the Entrepreneurs of New York State at a recent ceremony.

The Suffolk Entrepreneurial Assistance Center earned the award for successfully meeting and/or exceeding the economic impacts of a grant creating the center.

The impacts include business starts, businesses saved, jobs created, increased sales, serving Veterans, business loans, Minority and Women Business Enterprise certifications and creation of business plans. This honor was also bestowed to Suffolk's Entrepreneurial Assistance Center in 2012.

The Entrepreneurial Assistance Center offers entrepreneurial training courses as well as technical and management seminars to those who are interested in starting or expanding their businesses.

The Center provides intensive assistance in enterprise development to individuals interested in:
seeking to start or are starting their own business ventures; or
seeking to expand their early-stage firms (1-5 years).
The emphasis is to develop lasting business and problem-solving skills to enable individuals to successfully manage and grow their businesses, and generate tangible results, including: increased sales, expanded employment, and securing financing.
Suffolk County Community College has been an Entrepreneurial Assistance Center funded through Empire State Development Corporation for 23 years.