For Immediate Release
November 13, 2020
Suffolk Honors Two for Outstanding College Service and Scholarship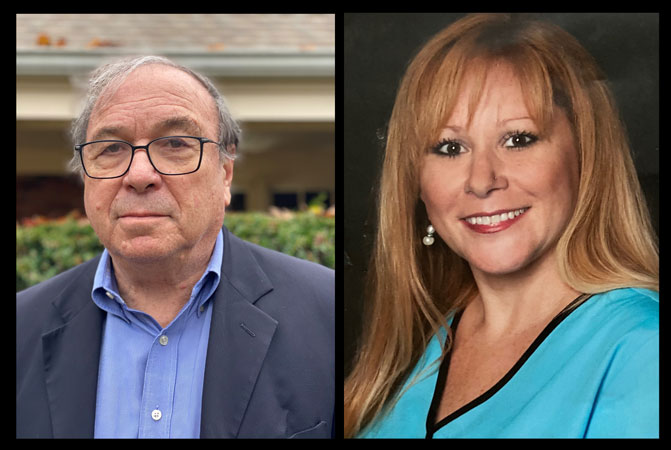 Steven Klipstein and Lisa Quinones
Suffolk County Community College has honored retired Professors Lisa Quinones and Steven Klipstein as Professors Emeritus for outstanding teaching, scholarship and service to the College.
The honor is awarded to select retired professors after long and distinguished service to the College and its students.
"Our faculty are the foundation of our College," said Interim College President Louis Petrizzo. "Lisa and Steve's unwavering dedication to Suffolk County Community College and the success of our students is one reason why so many of our students go on to successful careers. The award is well deserved and on behalf of all of our students, faculty and staff, I congratulate them on this outstanding achievement."
"Suffolk celebrates greatness! The emeritus award recognizes greatness in those faculty who provide a model of scholarship and service for all of us after having achieved the rank of full professor and into their retirement. It is an absolute joy for me to join in their recognition and thank them for the example they provide to those of us who continue this privileged work in support of students from Suffolk County and beyond," said Vice President for Academic and Student Affairs Dr. Paul Beaudin
About the Recipients
Lisa Quinones
Lisa Quinones has been a nurse for more than 35 years and a nurse educator for 20 years and believes in lifelong learning and service.
As a nurse practitioner and faculty and student role model, Quinones has raised Suffolk County Community College's Nursing Program to new levels of international service and awareness.
Quinones was a consultant and an outreach health educator for the March of Dimes and a volunteer brigade member for Hope for a Healthier Humanity. As a nursing educator, she traveled to Latin America several times a year, often taking nursing students and/or recent graduates with her. She served as a primary educator and director of curriculum development for courses in Latin America and educated "promoters" who are extremely poor individuals living in rural areas, teaching them health maintenance, disease prevention practices and a variety of techniques to provide improved physical care.

Under her leadership, Suffolk's nursing club raised funds to provide 165 birthing kits to to Latin American villages.
At Suffolk County Community College, Ms. Quinones was a Science and Technology Program (STEP) faculty member, a presenter for Medical Camp, and a mentor for STEP, among others. Additionally, she served as a member of various professional and scientific societies; has presented at academic forums and workshops; and been awarded many professional accolades, including the top honor as Long Island's Nurse of Excellence in 2011.
Quinones has been widely published, including her article "Pathways to Nursing: A Personal Testimony of Trial and Triumph" which appeared in the bilingual magazine Motivos.

Steven C. Klipstein
Professor Steven C. Klipstein recently retired after serving for more than 49 years in Suffolk County Community College's English department where for many years he was the Ammerman Campus assistant department chair and faculty advisor to the campus newspaper where he created a working newsroom and set high journalistic standards.
Additionally, Professor Klipstein taught the Holocaust course at the College for 30 years. In 2006, he was added as the Holocaust scholar for what is now the Center for Social Justice and Human Understanding. During his time with the Center, Professor Klipstein helped create and oversee events about Holocaust education, including serving as the moderator for the annual "Conversation Among Survivors"- a platform for Holocaust Survivors to share their personal history.
Recently, Professor Klipstein appeared in a six-hour American Heroes Channel documentary, Hitler's Empire, where he discussed Long Island's Nazi summer camp, Camp Siegfried, among many other topics.
Professor Klipstein has been interviewed and quoted by the New York Times, the New York Daily News, Newsday, the Long Island Report, the Long Island Pulse and the Long Island Press, among other publications.
In his work as an instructor, a colleague, and a scholar, Professor Klipstein has represented, and continues to represent, the very best that Suffolk County Community College stands for and offers the community through its excellent faculty.