For Immediate Release
February 2, 2022
Eastern Campus Faculty and Staff Art Exhibit February 7 – March 5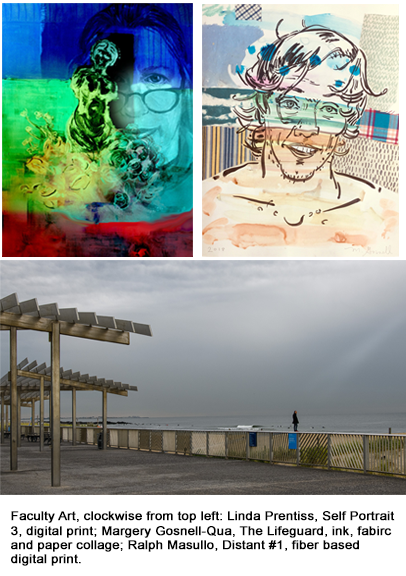 Faculty Art
Works of art created by Suffolk County Community College Eastern Campus art faculty and staff members will be on exhibit from February 7 through March 5 at the campus' Lyceum Gallery in Riverhead.


Exhibit artists and their works include:
Principal Library Clerk Jeannette Fischer of Center Moriches, exhibits oil paintings on canvas.


Professor John Stefanik of Center Moriches, who teaches 2D Design and History of Photography, shows his black and white photographs of Long Island's East End


Professor Beth Giles of North Haven, who teaches Drawing and Art Appreciation, exhibits handmade paper reliefs


Professor Meredith Starr of Plainview, who teaches Drawing and 2D Design, shows mixed media works


Professor Margery Gosnell-Qua of Remsenburg, who teaches Drawing and Art Appreciation, shows her collages and oil paintings


Professor Ralph Masullo of Howard Beach who teaches Photography, exhibits color photographs of surfers


Professor Chris Vivas of Patchogue, who teaches 3D Design, presents ceramic sculptures


Professor Linda Prentiss of Ronkonkoma, who teaches Color Theory, Graphic Design and Digital Illustration exhibits digital collages.


An artists' reception open to the general public is scheduled for Thursday, February 17, from 4 - 6 pm. Masks are required.
Gallery hours are:
Monday - Thursday 9 am – 7 pm.
Friday 10 am – 4 pm.
Saturday 11 am - 4 pm.
Sundays- closed
For more information call 631-548-2536.