For Immediate Release
June 25, 2019
"It's Not Me It's You" at Gallery West Sept. 27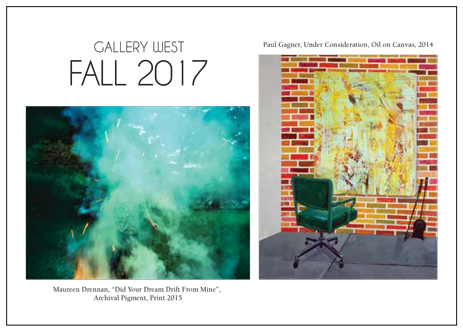 Maureen Drennan
is a photographer born and based in New York City.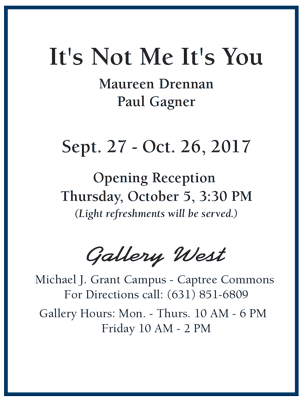 She received an MFA from the School of Visual Arts in 2009 and her work has been included in exhibitions in North America and Australia including the National Portrait Gallery in Washington D.C., the Tacoma Art Museum, Aperture Gallery, the Rhode Island School of Design Museum, Chelsea Art Museum, Silvereye Center for Photography, Newspace Center for Photography, and the Colorado Photographic Arts Center. Her images have been featured in
The New Yorker
,
The New York Times
,
California Sunday Magazine
,
Photograph Magazine
,
Huffington Post, UK Telegraph,
and
American Photo
.
She has received honors from Aperture, The Photo Review, PDN, The Photographic Resource Center of Boston, Humble Arts, Artist as Citizen, and the Camera Club of New York. Maureen currently teaches photography at LaGuardia Community College in New York City.
Paul Gagner was born in 1976 in rural Wisconsin. He received his BFA from the School of Visual Arts in 2005, and his MFA from Brooklyn College in 2009. He has exhibited throughout the United States including Halsey Mckay, Allen & Eldridge, Driscoll Babcock, the Sheila & Richard Riggs Leidy Galleries at the Maryland Institute College of Art, the Housatonic Museum of Art and the Richmond Center for Visual Arts. Gagner is based in Brooklyn, New York.

The exhibition is guest curated by John Cyr.