For Immediate Release
June 25, 2019
West Islip's Mattera Snags Golden Glove and Academic Awards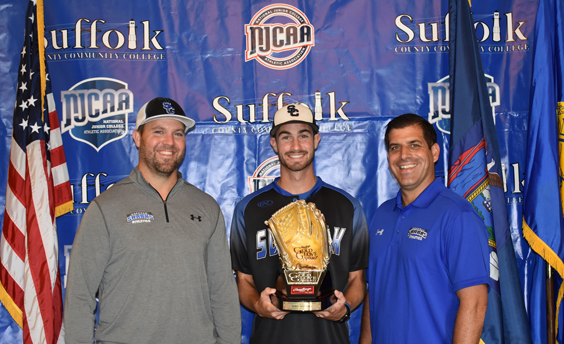 𝗝𝗮𝗺𝗲𝘀 𝗠𝗮𝘁𝘁𝗲𝗿𝗮 (𝗪𝗲𝘀𝘁 𝗜𝘀𝗹𝗶𝗽 '𝟭𝟲) 𝘄𝗮𝘀 𝗮𝘄𝗮𝗿𝗱𝗲𝗱 𝘁𝗵𝗲 𝟮𝟬𝟭𝟴 𝗖𝗼𝗹𝗹𝗲𝗴𝗶𝗮𝘁𝗲 𝗥𝗮𝘄𝗹𝗶𝗻𝗴𝘀 𝗚𝗼𝗹𝗱 𝗚𝗹𝗼𝘃𝗲 𝗔𝘄𝗮𝗿𝗱 𝗯𝘆 𝘁𝗵𝗲 𝗔𝗺𝗲𝗿𝗶𝗰𝗮𝗻 𝗕𝗮𝘀𝗲𝗯𝗮𝗹𝗹 𝗖𝗼𝗮𝗰𝗵𝗲𝘀 𝗔𝘀𝘀𝗼𝗰𝗶𝗮𝘁𝗶𝗼𝗻.
Mattera was also voted First Team All Region XV and was a Third Team NJCAA All Academic Honoree with a 3.76 GPA for the 2017-2018 academic year.
Jimmy will be continuing his athletic and academic career at SUNY Farmingdale. "Jimmy's performance is not only outstanding on the field, but in the classroom as well. We wish Jimmy the best of luck in his academic and baseball career," said Head Baseball Coach Brian Klammer.