For Immediate Release
May 15, 2023
3,000 in Class of '23, College Celebrates at Two May 18 Ceremonies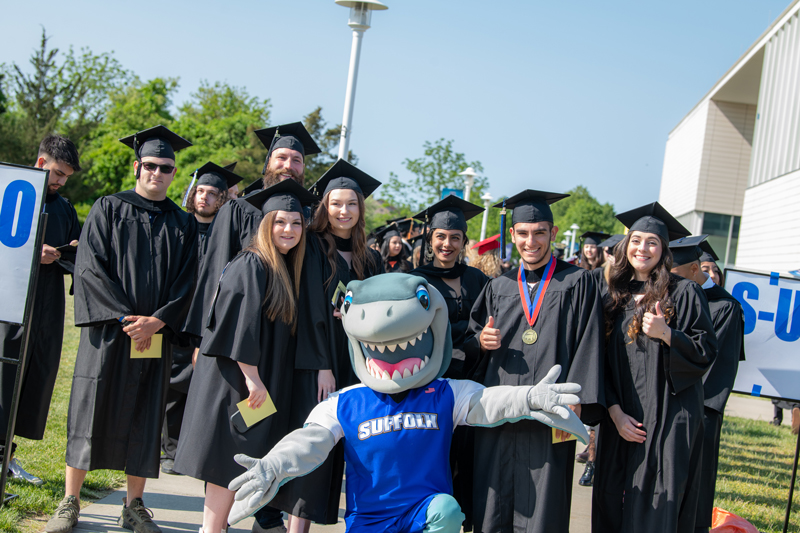 Graduation 2023
Suffolk County Community College will celebrate its Class of 2023 – more than 3,000 graduates- -- at two Thursday, May 18, 2023 ceremonies. Students will gather in the Suffolk Federal Credit Union Arena on the College's Michael J. Grant Campus in Brentwood with friends and family watching as the graduates are honored by the College community.
ABOUT COMMENCEMENT
Commencement ceremonies are scheduled for 10 a.m. and 2 p.m., Thursday, May 18, 2023 in the Suffolk Federal Credit Union Arena on the College's Michael J. Grant Campus in Brentwood. The ceremonies will be streamed live at: http://www.sunysuffolk.edu/live-stream.jsp
Suffolk County Community College Graduation by the Numbers
January 2023 graduates – 872 (810 associates degrees, 62 one-year certificates)
May 2023 graduates – 1,982 (1905 associates degrees, 77 one-year certificates)
August 2023 graduates (applied to graduate) – 195 (195 associates degrees)
Class of 2023 total: 3,049
Approximately 500 graduates are expected to walk at each ceremony.
Suffolk County Community College President Dr. Edward Bonahue told the graduates:
"Starting tomorrow, you will have the opportunity to walk into a future with fortitude and discipline that will enable you to achieve whatever you set your mind toward.
As you prepare for the next steps on your academic and professional journey, I want to encourage you to maintain your connections to the college as a member of our alumni.
Your energy, passion, and sense of purpose will help Suffolk County, Long Island and New York State as they seek to grow, in much the same way you will seek to find your next leadership opportunity, within business and industry, as a scientist, accountant, health care worker, educator, first responder, or any other professional you dream to become."
10 a.m. Ceremony Student Speakers
Kaycee Gracia (Ammerman Campus)
Kaycee is a Liberal Arts / Geology major from Sayville, has a 4.0 GPA and has earned Dean's List recognition every semester for the last two years. Kaycee serves as President of the Phi Theta Kappa Alpha Zeta Nu Chapter, where she directed two major campaigns: to combat "fast fashion" and create an Autism Sensory Room on the Ammerman Campus. She was also an orientation leader and is the recipient of eleven scholarships, most notably the Get There from Here Scholarship, Sartorius STEM Scholarship, and NSF-STEM Scholarship. She also actively volunteers with the Rotaract Community Service Club and campus food pantry. Kaycee was also awarded a SUNY Chancellors Award and is on the New York State Academic team.
Emily S. Lucana (Michael J. Grant Campus)
Emily is a first generation Peruvian-American and is a Business Administration major from Huntington. She previously graduated from Miami Arts Charter School in 2021. Emily has a 3.7 GPA and on the Dean's List. Emily serves as president of the Student Government Association (SGA), president of the Business and Accounting Club, vice president of the Honors Club, is a Peer Mentor and SGA Representative of the Campus Activities Board.
Emily is a SUNY Chancellor's Award recipient, Hispanic Scholar Fund finalist, Honors Foundation Scholar, and a Coca-Cola Leaders of Promise Scholar. She also leads an art business, won the Student Performer Talent Show Contest. emily has a career interest in art and entertainment management and wants to earn a master's degree. While Emily has not decided on a transfer institution, she has been awarded a SOLII Scholarship for Five Towns College and was admitted to Pace and Adelphi Universities
Brandon Roach (Eastern Campus Campus)
Brandon Roach a graduate of William Floyd High School, holds the rank of Eagle Scout in the Boy Scouts, and is a member of the Suffolk Police Explorers program where he serves as the Captain of the 7th Precinct. It is in this program that Brandon realized that he had a love for law enforcement, and that love has led him to pursue a future in Criminal Justice. Brandon is graduating with a degree in Criminal Justice and plans to pursue a career with the NYPD. Brandon was elected president of the Eastern Campus Student Government Association where he advocated for initiatives that helped enhance the student experience.
2 p.m. Ceremony Student Speakers
Ana G Fuentes (Ammerman Campus)
Ana came to the United states from El Salvador when she was 18 years old in search of a better future. A liberal arts major, from East Patchogue, she plans on pursuing a career in education. Ana is the recipient of many scholarships, including the Get There from Here Scholarship and she is a semi-finalist for the highly competitive undergraduate Jack Kent Cooke Scholarship. Ana has a 4.0 GPA and has earned Dean's List recognition for the past two years. She is an inspirational speaker at high schools, will be a guest speaker for Suffolk's English as a Second Language Convocation, and volunteers at an immigration clinic in Brentwood. She is also a member of the PTK Honor Society and Suffolk's Honors Program.
David Mariyasin (Michael J. Grant Campus)

David is a communications major from Brentwood and has a 3.2 GPA. He was a founding member and served as secretary of the Global Connections Club as well as director of social media for the Student Government Association, a representative of SUNY Student Assembly, peer mentor, a member of the Phi Theta Kappa Honor Society. David volunteered in the food pantry as well as the food drive and blood drive events. He has been accepted at Stony Brook University and Farmingdale State College and is interested in a computer science career.
Nichole Ruggiano (Eastern Campus)

Nichole is an Interior Design major from Ronkonkoma and has a 4.0 GPA and has earned Dean's List recognition. Nichole has earned a Certificate of Achievement from Kravet, Design of Distinction; Brighter Tomorrows Inc. Certificate of Recognition, and a Boys and Girls Club Certificate of Recognition. Nichole is a member of the Phi Theta Kappa Honors Society and the Alpha Sigma Lambda Honors Society. She has volunteered her time with the Boys and Girls Club of Bellport and contributed to redesigning their teen lounge. She also volunteered to redesign rooms in a women's domestic violence shelter. Nichole is an active participant in her community and volunteers to help others anyway she can.