For Immediate Release
April 13, 2021
Leeanna Rutigliano Named PTK Guistwhite Scholar, Selected from Among More Than 4,000 Nationally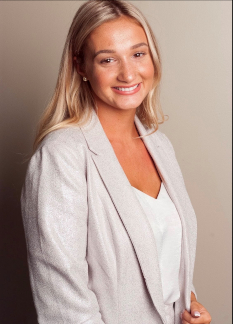 Leeanna Rutigliano
Leeanna Rutigliano, a Suffolk County Community College Child Study Education major from Medford, is among fifteen scholars selected from more than 4,000 nationally to be awarded Phi Theta Kappa's (PTK) second highest scholarship that includes $5,000 for future studies.
Rutigliano was named a PTK 2021 Guistwhite Scholar based upon academic excellence, leadership accomplishments, and engagement in Phi Theta Kappa programs. In addition to the scholarship, she will also be presented with a commemorative medallion. The scholarship is named in honor of the late Margaret and Dr. Jack Guistwhite, who established the first transfer scholarship designated exclusively for Phi Theta Kappa members to Florida Atlantic University in 1975.
Leeanna has a 4.0 grade point average and has earned Dean's List recognition every semester for the last two years; serves as President of Phi Theta Kappa's Alpha Zeta Nu Chapter; is a Division 1 Finalist Oberndorf Scholar, and member of Suffolk's College Choir.
"Leeanna's academic excellence and community commitment makes her a role model for other students and everyone at Suffolk County Community College," said interim College President Louis Petrizzo. "All of us at the college are extremely proud of her."
"Suffolk County Community College honors students each semester with Phi Theta Kappa recognition. Our participation in this national organization not only celebrates student scholarship, but assists them in taking their next steps in college transfer and career readiness. Leeanna is a wonderful example of how that comes to fruition here and I am confident that she will be a model for the elementary school children who she will eventually teach," concluded Dr. Paul Beaudin, vice president for academic and student affairs.
Earlier this year Rutigliano was named a 2021 Coca-Cola Academic Team Scholar based upon scores she earned in the All-USA Academic Team competition. More than 2,000 students competed for the coveted title and award. The Coca-Cola Academic Team recognizes high achieving college students who demonstrate academic excellence and intellectual rigor combined with leadership and service that extends their education beyond the classroom to benefit society.
Later this month, Rutigliano will be awarded the prestigious State University of New York (SUNY) Chancellor's Award for Student Excellence. The SUNY Chancellor's Award for Student Excellence recognizes students for outstanding achievements and who best demonstrate the integration of SUNY excellence within many aspects of their lives, which must include three of the following: academics, leadership, campus involvement, community service, or the arts.
Phi Theta Kappa is the premier honor society recognizing the academic achievement of students at associate degree-granting colleges and helping them to grow as scholars and leaders. The Society is made up of more than 3.5 million members and nearly 1,300 chapters in 11 nations, with approximately 240,000 active members in the nation's colleges.