For Immediate Release
March 17, 2021
Suffolk Students Win CEWIT Center Hackathon for Vaccine Finder Website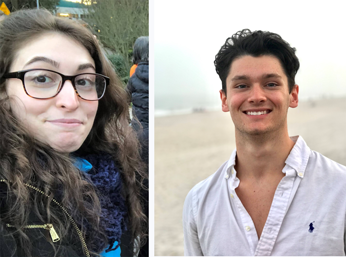 Patricia Moore and Ryan Weiss
Four Suffolk County Community College Computer Science and Engineering students took top honors in their category at the Center of Excellence in Wireless and Information Technology (CEWIT) at Stony Brook University's Fifth Annual Hackathon, Hack@CEWIT 2021: Innovating Through the Pandemic for developing an easy-to-use COVID-19 vaccine-finder website that is senior citizen.
Suffolk students Sean Afridi of Ronkonkoma, Patricia Moore of Stony Brook, Ryan Weiss of Manorville and Joshua Muckey took top honors in the Best Pandemic Innovation category for their "65+ vaccine finder intended to notify by email and/or text."
"The prompt for this hackathon was 'innovating through the pandemic," said Suffolk Computer Science Club President Patricia Moore. "I had recently spent an extended amount of time trying to get my 70- and 74-year-old parents' appointments to get their first vaccine jab. And it was virtually impossible for them. And was very difficult even for me. So, of course I'm all riled up from having to struggle through this for several hours. They say the prompt is innovating through the pandemic. I'll show you innovating through the pandemic. We're going to make a better website! I mentioned that to my classmates, and they all said it was a good idea."
The team set off to code and build a website in approximately 36 hours -- from February 26 to 28.
The Vaccine Finder website collects a user's location, either zip code or full address and email and/or phone number. The location is used to find the nearest vaccine sites. The user is then put on a notify list and sent an email and/or text to when vaccine is available.
Moore began by building the web site's physical presence using large type and high contrast graphics that are user friendly and easy to navigate among the senior citizen target audience.
Muckey coded with a "web scraper" and scraped location data from sites that Afridi analyzed and organized. Ryan Weiss began building the text and email notification system
"It's the two days that we spent learning together under a time crunch. I can't overstate how transformative those two days were because now I think all of us feel more confident in our ability to make things that help people," Afridi said. "We learned a lot about how to work together and modularize our efforts, especially when working with more than one person on a deadline."
Weiss said it was challenging. "We had to try and learn everything on the fly while we're doing it, which was fun. Definitely a bit difficult. We definitely didn't take the easy route."
"Our Computer Science program attracts a large group of smart and hardworking students every year," said Suffolk County Community College Assistant Academic Chair and Professor of Computer Science Ben Chen. "It has enjoyed a great reputation for its quality across New York State over the years. Our graduates have been transferring to highly reputable Computer Science programs in SUNY schools as well as in other parts of the country. Some were recruited to work for large high-tech companies such as Amazon, Google, and Facebook. We are very proud of of all of them."
For now, the Vaccine Finder web site is not live, but the group hopes, time permitting, to build out the site completely and deploy it.