For Immediate Release
June 25, 2019
Suffolk Community College Helps Reshape County Workforce with Programs, Training in Emerging Technologies Officials Tell Legislative Committee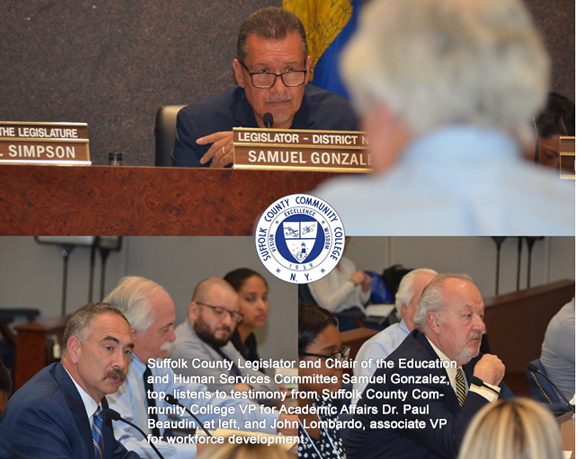 Suffolk County Legislator and Chair of the Education and HumanServices Committee Samuel Gonzalez, top, listens to testimony from Suffolk County Community College VP for Academic Affairs Dr. Paul Beaudin, at left, and John Lombardo, associate VP for workforce development.
Suffolk County Community College is a leader in preparing Suffolk County's students and current and future workforce for emerging opportunities the County Legislature's Education and Human Services Committee was told in testimony by Suffolk County Community College VP for Academic Affairs Dr. Paul Beaudin and John Lombardo, associate VP for workforce development on Tuesday.
Beaudin testified that the college offers an abundance of programs and opportunities for students and residents, and detailed several, including:
More than 5,000 high school students from 59 high schools participated in our concurrent enrollment programs this year through a NYSED grant 350 students from six middle and high schools participated in the Science, Technology, and Engineering Program and another 360 in our Liberty Partnership college-readiness program


the college launched its grant-funded surgical tech program servicing a dozen students and is continuing its Ophthalmic Tech program, also through a grant --92% of the graduates were employed in the ophthalmic industry


a $2.9 million grant is preparing more than 300 17-29 year-olds in manufacturing, health information technology, and cybersecurity. These programs are all meant to provide living-wage employment to county residents who are unemployed or underemployed.
Additionally, Dr. Beaudin told legislators about an OASAS grant at the Michael J. Grant Campus to help those impacted by alcohol and substance abuse, a new workforce training program for neuro-diverse young adults, the involvement of college science students in our county's tidal marsh restoration project, and the community Spanish program that the Office of Continuing Education developed for the Suffolk County Police Department.

Lombardo told legislators that our region's needs are being met through several of the college's workforce development programs, satisfying industry needs utilizing the best equipment and most relevant content. He said the college's welding program expanded by 50 percent and continues to grow, and national certifications to welding and CNC machining and additionally J-STD soldering, and PLC controls for automation have been added.

Lombardo explained to legislators that the college expects to utilize existing certifications in welding, electrical technology and safety to be at the forefront of collaborations with the emerging offshore wind industry and a foundation for composites technicians as well as a single certification as an offshore wind technician. The college's technical training model provides the student with alternative career path opportunities that provide growth with a sound skill foundation.

Dr. Beaudin also told legislators that two graduation ceremonies were held last week with over 1,200 student participants representing over 4,000 graduates, that the college celebrated 118 English as a Second Language graduates, and the nursing program pinned 189 students.