For Immediate Release
January 19, 2023
Bridgehampton Artist Hector Leonardi Exhibit at Suffolk County Community College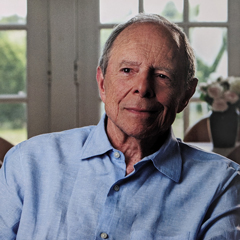 Hector Leonardi
Hector Leonardi: Light Passages, an exhibit of paintings by Bridgehampton artist Hector Leonardi, a master of color, whose five-foot-high textured canvases contain lush cobalt blues or reds that create painterly filigrees that allow soft yellows and oranges to peek through will be on display at the Suffolk County Community College Eastern Campus' Lyceum Gallery from January 23 through February 25, 2023.
In his light filled Bridgehampton studio, Leonardi recounted the teaching of his Yale University mentor, Josef Albers, "Albers would point to a color area in my work and ask 'What is this doing?'" Questions like this would lead Leonardi to discover a myriad of color phenomena throughout his 60-year painting career.
His color passages are structured in stripes, floating shapes, and atmospheric compositions in weightless color fields. Horizontals beckon one to enter these hallowed environments that harken to the natural world. In them, one can see influences of Gustav Klimt's forests, Seurat's optical mixing, and Klee's abstractions.
Leonardi described the open-ended process that leads to his ethereal, colorist works. He paints an initial layer on his canvas, and then he adheres patterned paint swatches that he created previously from built up paint layers. As Leonardi experiments by adding color elements, a visual dialogue takes place, in a back-and-forth conversation over time a finished work emerges.
Leonardi was born in 1930 in Waterbury, Connecticut. He received a master of fine arts degree from Yale University in 1955 after earning a bachelor of fine arts degree at Rhode Island School of Design. Leonardi worked for industrial designer Russell Wright for seven years before gaining a professorship at Parsons School of Design where he taught for 25 years. Leonardi was awarded a McDowell Fellowship in 1964. In the early 1970s, Leonardi moved to Bridgehampton where he has devoted himself to his experimental studio practice. Leonardi has exhibited his work in NYC, Florida, Pennsylvania, New Mexico, Connecticut and internationally in Japan, Paris, and Venice.
A reception will be held on Thursday, February 16, from 4 to 6 p.m. Refreshments will be served. All are welcome.
The Suffolk County Community College Eastern Campus is at 121 Speonk-Riverhead Road in Riverhead. The gallery is in the Montaukett Learning Resource Center Library.

Gallery hours are:
Monday -Thursday 10 a.m. - 7 p.m.
Friday 10 a.m. - 4 p.m.
Saturday 11 a.m. – 4 p.m.
Sunday - closed
Exceptions: closed 2/20 (Presidents Day); and open 10 a.m. – 4 p.m. on 2/28.
Call 631-548-2536 for more information.