For Immediate Release
September 10, 2019
FREE SCREENINGS: Stony Brook's Mobile Mammography Van to Visit Michael J. Grant Campus in Brentwood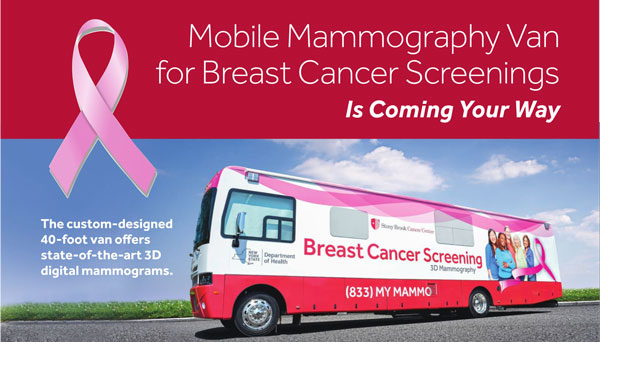 Mobile Mammography Van
The Nursing Club of Suffolk County Community College will welcome the Stony Brook University Cancer Center's new life-saving Mobile Mammography Van to the Michael J. Grant Campus in Brentwood on Wednesday October 9, 2019 from 9 am to 5 pm to provide easy access to mammograms for women in the community who otherwise might not get them.
Screenings are performed by New York State registered radiologic technologists with advanced mammography training. Appointments are required and can be made at 631-638-4135. See eligibility requirements below.


The goal is to do everything possible to help women 40 years and older to get annual screenings and increase the likelihood of detecting breast cancer early, when it may be easier to treat.