For Immediate Release
March 10, 2020
ESL Student Earns Striving for Excellence Award and $1,000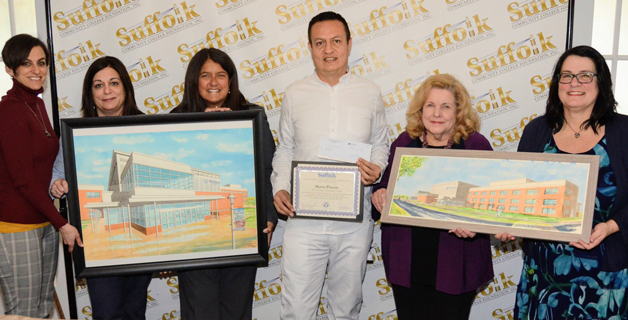 Photo L to R - Krista Svedberg, vice president of marketing, Suffolk Federal Credit Union; Laura Racioppi, AVP - executive assistant to the CEO, Suffolk Federal Credit Union; Dr. Sylvia Diaz Suffolk Community College Foundation executive director; Mario Pinzon, 2020 Striving for Excellence Award winner; June Ohrnberger, EdD, Director of ESL Programs; Mary Lou Araneo, vice president for institutional advancement.
Congratulations to Suffolk County Community College English as a Second Language student Mario Pinzon who was recently awarded a $1,000 Striving for Excellence Award from the Suffolk Community College Foundation.
Mario is an architect and architectural artist in his native Colombia and came to Suffolk to learn English. While taking classes on the Michael J. Grant Campus to learn to communicate more effectively, Mario watched the college's Health Sports and Education Complex transform into the Suffolk Federal Credit Union Arena and decided to paint the building. Mario presented his art to the college as a gift.
The ESL non-credit English Program and Intensive English Program at Suffolk County Community College provide high-quality English as a Second Language instruction to equip second-language learners with the necessary language tools to thrive academically, professionally and socially.