For Immediate Release
August 31, 2022
Suffolk Sustainability Hosts LI Transportation Advocates Micromobility Policy Forum and Vendor/Exhibitor Showcase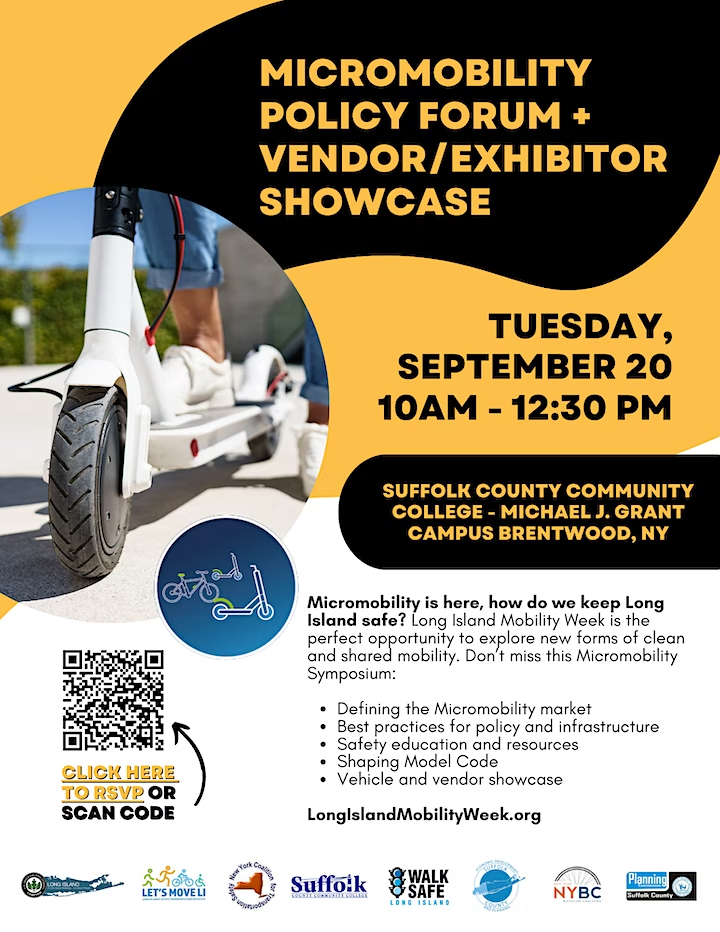 Micromobility Policy Forum and Vendor/Exhibitor Showcase on Tuesday, September 20, 2022 from 10 a.m. to 12:30 p.m. at Suffolk County Community College's Michael J. Grant Campus, Brentwood
Long Island transportation advocates will host a Micromobility Policy Forum + Vendor/Exhibitor Showcase on Tuesday, September 20, 2022 from 10 a.m. to 12:30 p.m. at Suffolk County Community College's Michael J. Grant Campus, Brentwood during Long Island Mobility Week, a week during which Long Island villages, towns, cities, counties, and other organizations can showcase their commitment to clean and sustainable transportation options.
The use of micromobility devices such as electric bikes and scooters are increasing on Long Island and nationally. While the devices have many benefits — they're environmentally friendly, affordable, and compact— they also present safety concerns and policy updates.
Join is this interactive conversation about the present and future state of micromobility on Long Island, sponsored by the U.S. Green Building Council, Let's Move LI, the New York Coalition for Transportation Safety, Suffolk County Community College, Walk Safe Long Island, Suffolk County Economic Development and Planning, the New York Bicycling Coalition, and the Suffolk County Planning Division.
Register here: https://www.eventbrite.com/e/micromobility-policy-forum-exhibitor-showcase-tickets-395220764947