For Immediate Release
February 21, 2020
College Assistant Coach a Champ Himself, Set Millrose Games Relay Record This Year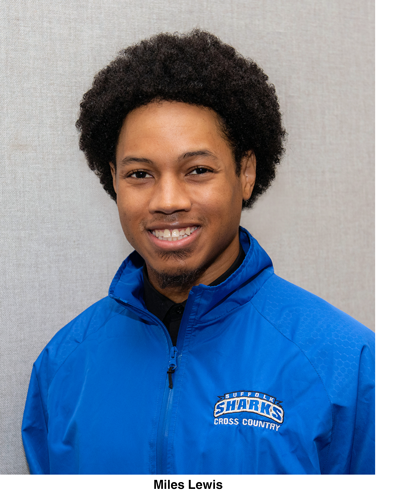 Miles Lewis
Suffolk graduate Miles Lewis shared in the glory of Suffolk County Community College's Women's Cross Country team's third national championship title as an assistant coach under 2019 National Women's Cross Country Coach of the Year and Head Coach Matt French late last year.
A Newfield High School graduate from Coram, Lewis transferred from LIU Brooklyn and earned a liberal arts degree from Suffolk in 2012 and then double majored in communications and psychology and graduated from SUNY Buffalo with a bachelor's degree in 2015.
But few know that Lewis is a champion in his own right.
Lewis earned three letters and captained two seasons at Newfield High School and was named All-American and All-Long Island. He also earned most valuable player honors. At the 2009 Millrose Games he placed second in the young men's 60-meters and was 2009 NY State indoor champion in the 55-meters. Lewis finished second in the 200-meters at the 2009 state outdoor championships.
Today he competes as a member of the Puerto Rico National Team and a local athletic club.
Most recently, Lewis and his Long Island Club relay team Elitefeats Athletic Club captured top honors and a meet record at the prestigious Millrose Games in the 4x200 relay. Elitefeats is currently ranked third in the world with their blistering 1:26.72 meet record finish at Millrose. Lewis' relay team held the number one world position for several days after their premier New York contest finish.
How did a sprinter become a long distance assistant coach? He asked.
Lewis connected with and assisted Head Coach Matt French during the 2018 men's and women's spring track season. His stint carried over to cross country.
"Miles' knowledge, positive attitude, and rational approach are a great fit for our cross country program," said Coach French. "Our national win reflected his extraordinary help this past season."
"I would like to thank Coach French, for allowing me to play a role in the success of Suffolk County Community College athletics and the development of our truly talented student athletes," Lewis said.


See also: https://cccnews.info/2020/02/24/sccc-assistant-coach-is-a-star-himself/